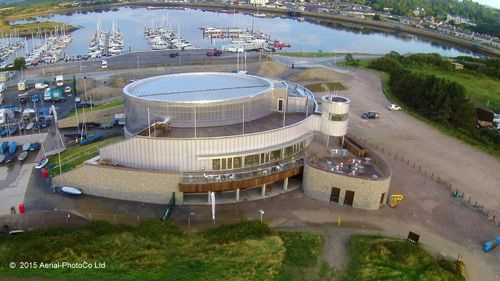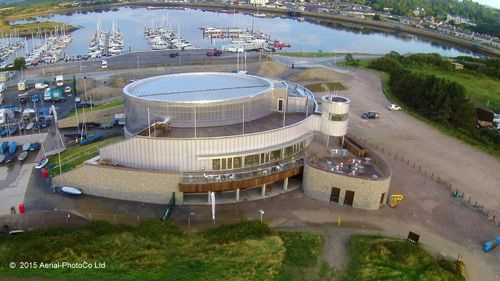 Anglesey-based Weatherwell Roofing was contracted to waterproof the roof and walls of the Welsh National Sailing Academy and Events Centre, during a winter project that required the application of a variety of Sika Liquid Plastics products.
Due to the location of the sailing academy, standing between the dunes and marina of Pwllheli, the main requirement of Ellis Williams Architects was to achieve a striking design that could provide the durability and strength to withstand the elements.
Sika Liquid Plastics' liquid applied waterproofing systems were specified across the building envelope. On the gabion walls, a Decothane Gamma 20 system was used, and on the concrete walls, a Sikalastic 618 15-year coating. All of the gabion walls were waterproofed down to the foundations of the building, with the liquid system joining the walls to the roof areas. This created a 100% waterproof junction between the two, an extremely important factor for a building that must weather the coastal environment. In addition, Decothane's elastic properties make it UV stable and tolerant of thermal movement.
For the cold roofs, warm roofs and green roof area, totalling over 1000m², Decothane Delta 25 was applied on to various primed surfaces, from concrete deck to a mix of flat board and tapered Decotherm insulation. All the roof areas were covered by timer decking for use as viewing galleries and cafe seating areas, where a Sika Liquid Plastics protective layer was also used.
Kristian Lewis, Weatherwell company manager, said: "We completed our portion of the project in 14 weeks, despite working through winter in very difficult conditions. Even in low temperatures we were able to expertly apply the Sika Liquid Plastics waterproofing membranes. The liquid applied nature of the products allowed us to get a great finish, even around the more complex detailing.
"It's great to be involved in a project that will give so much back to the local community and open the door for new sailors in the area."
The National Sailing Academy, commissioned by Gwynedd County Council, secured funding of over £8m for its construction, in order to increase opportunities for the surrounding community and boost the local economy. The facility has been constructed to BREEAM 'Excellent' standards with sustainable features including biomass heating, solar panels and rainwater harvesting. Officially opened in the summer of 2015, the centre acts as a hub for national and international sailing events, as well as hosting a number of clubs and training activities.