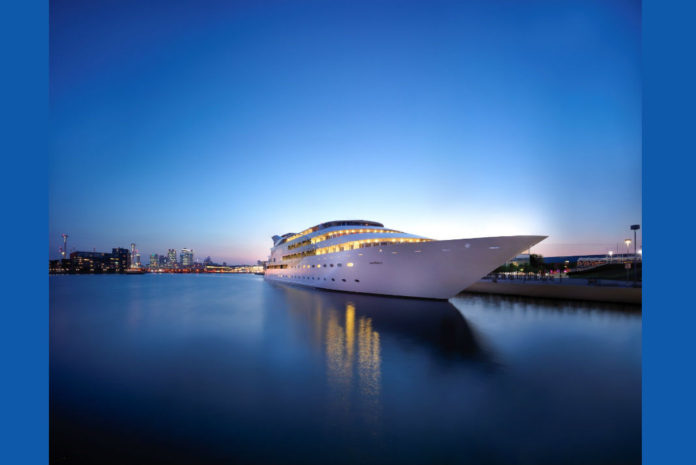 It was all aboard for the Centaur Technologies' Annual General Meeting, which this year took place on the luxury Sunborn London Yacht Hotel.
Moored at the Royal Victoria Docks, the 102-metre long vessel was also the setting for the very first contractor awards to be hosted by the liquid roofing systems specialist. The Centaur Quality Partnership Awards (CQP) awards are designed to recognise the outstanding installation skills of Centaur contractors and Centaur contractors themselves voted for who they thought were the worthy winners.
There were two categories in the inaugural awards – one for projects under 500m² and one for projects over 500m² – and the winners were announced on the day.
Taking first place in the 'over 500m²' category was Inspire Roofing, who beat off stiff competition from fellow roofing contractors McConnell Roofing, Central Roofing, SPV Roofing and Cladding, Roofclad Roofing, Heartfelt Roofing and Gable Roofing and Cladding. Inspire Roofing completed a flawless Centech PU 10-year installation on one of the control towers at London Airport, which despite tight security and extreme winter weather, came in ahead of schedule.
Gable Roofing and Cladding was up against fellow contractors Roofclad Roofing, Skyler Contracting and Maguire Brothers for the top spot in the 'under 500m²' category for a challenging project at the award-winning Forrest Hills conference venue in Lancaster. Gables had to work with the very complex contours of the roof when replacing a perished green roof with a Centech PU 20-year Tapered BUR system.
Phil Richardson, managing director at Centaur Technologies, said: "The CQP awards recognise and celebrate the achievements of some very talented roofing contractors but it was really important to us that the awards were judged by the contractors as they know what it takes to deliver such high quality installations. We were so impressed with the standard of entries in our first year and it gives us great encouragement that next year's awards will be even bigger!"
Centaur Technologies says its Centech PU liquid roofing system was developed with safety as a priority. Utilising stripped free-monomer technology, which makes it potentially far less hazardous than other systems available on the market, it is exceptionally durable and rapid curing (even under water). The system combines an extremely high tensile strength with guaranteed waterproofing characteristics and is quick, easy and safe to apply without the need for hot works.