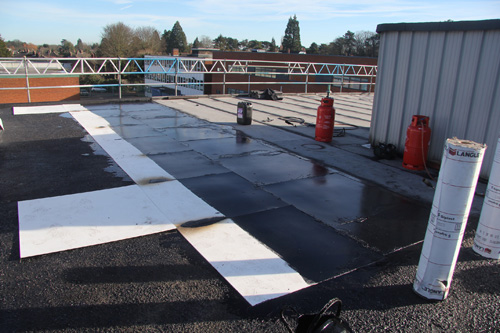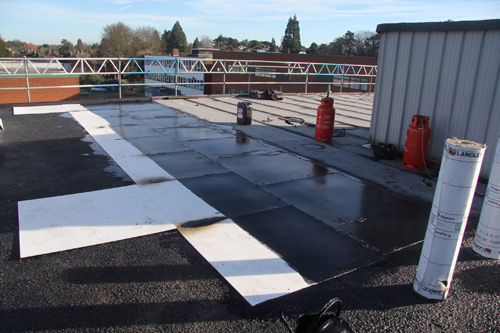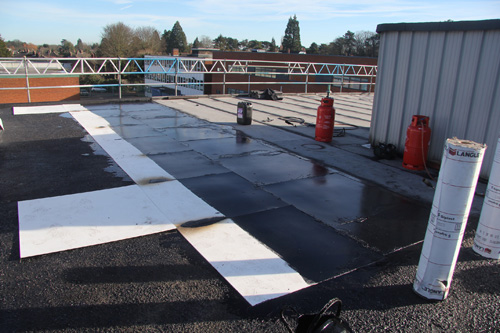 Colchester-based RT Roofing Services has been using Magply recovery boards as part of a high specification build-up, which provided its operatives with a relatively quiet as well as safe means of carrying out re-roofing works to school classrooms during lesson times.
While much maintenance work around school and college campuses has to be scheduled for the long summer holidays, the pressure this puts on the re-roofing works means some operations have to carry on during term time, as long as noise and disruption are kept to an absolute minimum.
As a result, instead of scabbling smooth the old covering of asphalt and chippings on the Bishops Stortford buildings, RT Roofing proposed to simply sweep away any loose material and then begin the over-roofing with a layer of 6mm thick Magply, bonded down in hot bitumen. This then offered a sound flat surface on which to install a Langley built-up felt system.
RT Roofing Services owner Richard Tebbutt commented: "At the Bishops Stortford School we wanted to avoid the noise and dust of scabbling the existing asphalt surface and chippings, so instead the team just brushed off the loose material and thoroughly prepped the surface before bonding the Magply sheets down in hot bitumen.
"Because Magply is non-combustible, any excess bitumen can simply be burned off before the vapour barrier is installed as part of a Langley approved system."
As its contract at the Herts and Essex High School has progressed, RT Roofing Services has laid some 600m² plus of 6mm thick, 1200mm x 1200mm Magply boards.
Magply is manufactured from an MgO formulation and carries a Euroclass A1 Non-Combustible Fire Rating.