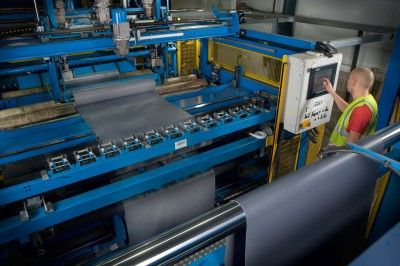 IKO Polymeric has installed new equipment at its Clay Cross factory in Derbyshire to refine the whole production process. The company says the new machinery will increase efficiency and deliver impressive quality control and enhanced packaging for its Armourplan PVC and Spectraplan TPE single ply membranes.
Anthony Carlyle, managing director at IKO Polymeric, said: "Essentially, this latest investment allows us to double capacity to reinforce our leading position in the UK market. Almost every aspect of our production process has been improved, from raw material processing right through to the labelling, allowing us to meet the demands of both the UK and our growing export market while ensuring the customers get the first-class quality and service expected from IKO Polymeric."
The new equipment has a 'Vision' system which uses eight cameras to monitor the consistency of the membrane, precisely identifying any imperfections and inconsistencies.
Mr Carlyle continued: "Having enjoyed rapid growth since our start in 2005, the challenge is to meet the increasing demand without compromising on quality, while keeping waste to a minimum. With this new machinery, IKO Polymeric enhances quality control to the highest level. Refined processing will further reduce our already low waste levels, and the new winding and packaging facility will simplify and accelerate the finishing process and minimise energy use."
IKO Polymeric says it is the only UK-based PVC and TPE single ply manufacturer and is proud to have achieved BES6001 for Responsible Sourcing.