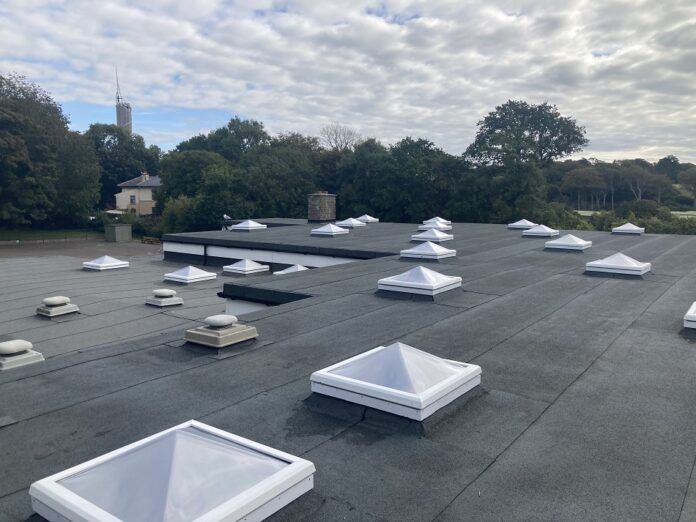 Mannin Roofing has completed an extensive renovation project at Manor Park School in Douglas, Isle of Man, using a Mapei roofing system.
The installation spanned a 1,215m2 flat roof, during which the original surface was stripped back and the Mapei system installed to provide high performance, flexibility in cold temperatures and waterproofing.
Originally opened as a junior school in 1975, Manor Park School became a primary school in 1986 and serves the communities of Pulrose and Spring Valley in Douglas.
During the roof renovation, materials specified included Polyvap SA P-AL prefabricated self-adhesive bitumen featuring ADESO® technology, which provided dimensional stability, water resistance and cold flexibility to -25°C.  Mannin Roofing then insulated the surface with 120mm Polyglass Foamshield – a high performance rigid polyisocyanurate board with a closed cell CFC & HCFC free (Zero ODP) rigid foam core with coated facings to both sides – and Sitek Retrofit boarding.
Esterflex SBS high performance membrane, modified with elastomeric bitumen, and Elastobond S6 P prefabricated elastomeric waterproofing membrane were then installed to the surface, except for the vapour control layer, was bonded with 95/25 bitumen, installed using the pour-and-roll method.  Sixty three roof lights were also installed as part of the project.
For more information about Mapei, please contact: info@mapei.co.uk or visit www.mapei.co.uk