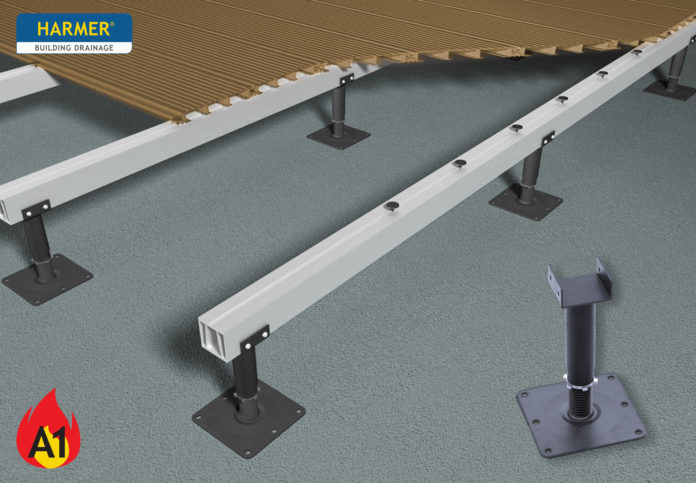 Rainclear Systems has introduced a new range of A1 fire rated, non-combustible raised floor pedestals from Harmer to its website.
For external balconies, terraces, roofs and winter gardens, the new range has been designed to comply with the latest building fire regulations released in response to the Hackitt report, following the Grenfell Tower tragedy.
The introduction of the new Building Safety Regulator will hold manufacturers, architects, designers, and anyone involved in building projects to account for their choice of materials. This will ensure that anyone involved in the design, specification, construction and management of a project, that includes external spaces can confidently specify (non-combustible) products that meet new government requirements for fire safety.
In response to more stringent safety measures, many manufacturers are addressing the need to provide safer solutions, producing products that are classified as A1 and A2 fire-rated, and Harmer has produced its A1 fire rated range of pedestals.
The regulations note that a fire-rated pedestal used in conjunction with combustible decking would be counter-intuitive and ineffective.
Manufactured from steel, the pedestals will not crack, split or warp, while providing strong support for decking or flooring joists. There is a large height-adjustable range suitable for every application.
Their highly durable zinc nickel finish provides excellent corrosion resistance. The internally threaded rigid tube allows millimetre perfect adjustment within the various height ranges, and a locking ring, ensures absolute stability. A totally flat, wide supporting base evenly spreads the load, while also protecting membranes and surfaces. The four holes in the base enable the pedestals to be fixed to the surface where necessary.
They come with either a 'paving spacer head' for natural stone, concrete and porcelain or a 'decking head', which will accommodate joists up to 50mm, with holes in either side for easy fixing to joists.
Both come in a range of various adjustable heights covering 25mm to 305mm, and are designed to support up to 1,000kg compression.
www.rainclear.co.uk/supports/non-combustible-pedestal-support.html