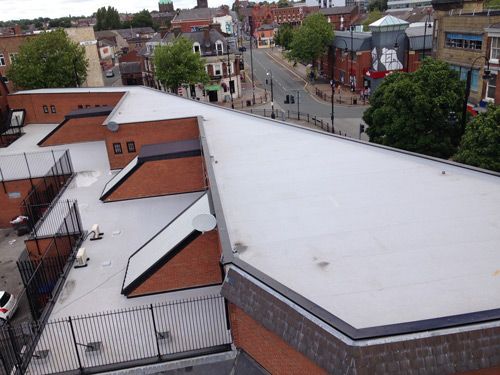 The selection of Firestone ISOGARD HD Cover Board and UltraPly TPO membrane has helped a client save 30% on the cost of a roof overlay project at a development of seven retail units in St Helens.
The project featured an unusual 1,000m² split level, zig-zag roof that had previously been waterproofed using bitumen and asphalt. Historic attempts to patch repair the roof using a liquid coating had failed and roofing contractor EBL group needed to scrape away the perished liquid coating before overlaying the roof with the Firestone system.
Ian Everett from EBL Group said: "Originally the project manager had specified 100mm PIR insulation as part of a warm roof overlay. Not only would this have altered the height of the parapets, creating problems with the lower level railings, it was also unnecessary expense because there was already thermiculate insulation under the bitumen. Our suggestion was to use Firestone's IsoGard Cover Board to create a solid, durable and even surface and then install the company's UltraPly TPO membrane to provide a hard-wearing waterproof surface."
After scraping off the liquid coating and replacing existing slate tiles with composite panels, EBL Group carried out patch repairs to blisters and cracks in the asphalt surface using sand infill and bitumen tape. The company then worked closely with Firestone to assess the roof on site and design the optimum layout for the TPO membrane.
The lightweight IsoGard Cover Board was adhered to the roof using Firestone's I.S.O. Twin Pack Insulation adhesive. The UltraPly TPO membrane was then cut to size and shape on site and fully bonded to the cover board using Firestone's UltraPly TPO Bonding Adhesive and heat welding seams to provide a robust watertight seal.