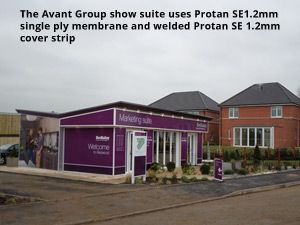 A single ply membrane system from Protan is being used to help deliver a first for the house-building sector.
The Avant Group has developed a relocatable show-suite, which uses 'gull-wing' prefabricated buildings comprising of two 10m x 3m sections that are craned into position next to each other. Each section of the 22 units being produced are roofed in the factory using Protan SE1.2mm single ply membrane; once on site, the two halves are sealed with a site welded Protan SE 1.2mm cover strip to waterproof the join between.
Colin Houston, architect for Avant Group, said: "Avant is all about design and style, all-inclusive, and the show suites reflect that. Further, they must fulfill their function, showcase the materials we use, and minimise our carbon footprint. We intend to relocate each a minimum of three times, and hopefully more.
"The portability of the construction is a key feature, and a further reason why we chose Protan: we value the product quality, but we also know that wherever we move the units to, there will be a professional, approved contractor to execute the jointing detail on site."
Protan says its SE single ply membrane is already used by Avant brands, Ben Bailey and Bett Homes, for its cost and quality, backed-up with a consistent level of technical support and installation nationwide. Protan membrane achieves durability for up to 30 years, with air leakage controlled / minimised in line with latest Building Regulations.
Manufactured at the company's headquarters in Norway, Protan roofing solutions are guaranteed for a minimum of ten years, but have been independently tested and certified by the BBA as having an expected durability in excess of 30 years. This is supported by the fact the company has roofs that have been in place for 30+ years without performance-affecting degradation. A full support service, from NBS specification and in-house CAD design through to technical advice and variable warranty depending on specification, is provided from Protan UK's Warrington office.