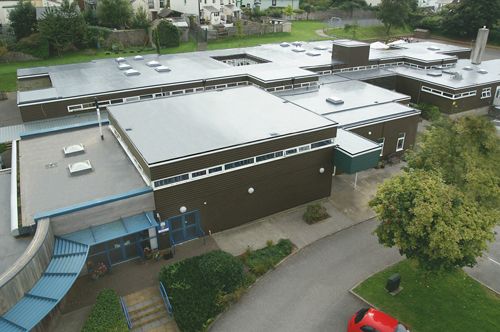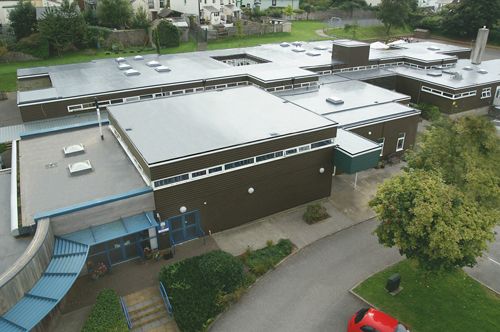 The use of a roofing system from Sika Liquid Plastics for recent refurbishment works at Eden Park Primary School Academy in Devon has helped the academy secure funding while delivering a quality solution to the project.
Bristol-based chartered building surveyors, Kenneth & Edwards, were employed by Eden Park to manage the project as the firm has a proven track record of securing money from the Condition Improvement Fund, which provides additional capital funding to academies and sixth-form colleges.
Paddy O'Conner from Kenneth & Edwards said: "When it came to specifying a product for refurbishment, I was looking for a system that could cope with complicated detailing, as there was extensive work needed to make good around the roof lights. However, I was also conscious that if we used a traditional system with hot works, and the project overran the summer holiday period, there would be considerable disruption and risk."
Kenneth & Edwards worked with the team at Sika Liquid Plastics, who compiled a detailed report on the original felt roof, which had reached the end of its life and was in desperate need of upgrading. The company's liquid waterproofing membrane, Decothane, fit the bill for the project. The liquid solution allows for ease of application around detailing and as the product is cold applied, installation could be undertaken during term time if needed without interrupting the education environment.
Mr. O'Conner continued: "The Sika Liquid Plastics system seemed to be the answer and was within budget and what finally swung it was the quality of the guarantee. All components of the system are covered by a substantial 20 year guarantee, which even goes so far as to adopt the original waterproofing down to and including the deck."
The Sika Liquid Plastics quality assured contractor, Stormforce Roofing and Maintenance, completed the work in a matter of weeks, overlaying the 1,500m2 roof with the new Decothane system, as well as installing new insulation and Decalite roof lights.
The Sika Liquid Plastics system also allowed for a thermal upgrade, reducing both cost and work otherwise associated with stripping the original waterproofing to the deck.
Simon Kalas from Stormforce Roofing and Maintenance said: "We're always impressed with the products and services from Sika Liquid Plastics – it's the whole package. The support they offer throughout the project is second to none. We say that Decothane is the Rolls-Royce of liquid membranes, while still offering great value to the client."
Sika Liquid Plastics will regularly inspect the roof during the guarantee period to ensure that the system is performing well.
David Holmes, area sales manager at Sika Liquid Plastics, said: "Our approach is simple, which is why it has become so popular. We help to get the funding, we offer safe, long term, cost effective roofing solutions which don't interfere with the education environment, and we monitor the roof during its life to help reduce maintenance issues. The results are evident at Eden Park School – it's a package we've worked hard to develop and are very proud of."