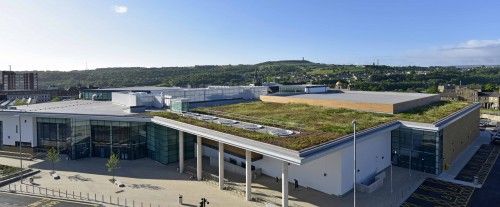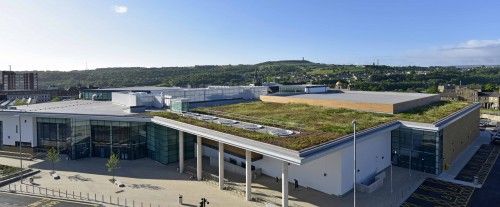 A combination of roofing systems from Protan are set to benefit a new £36m leisure centre from the top down.
The new Huddersfield Leisure Centre, being built by BAM for Kirklees Council, will use 6,500m2 of Protan SE prefabricated single ply membrane and 1,500m2 of the company's ProGreen green roof system.
Bob Richardson from roofing contractor Roofdec said: "The ecology requirements and local area prompted the choice of single ply and green roofing. A fully bonded system was specified for the single ply element, but it was agreed to use a prefabricated system instead, not only on the single ply roof but the green roof. This would meet the high performance criteria dictated by the exposed location and size of the roof, which an adhered system would struggle to comply with. It would also be as cost-effective, quicker to install, and minimise on-site wastage."
A council spokesperson added: "The area of green roof was chosen so that it would be aesthetically pleasing for people living in neighbouring homes which overlook this area of the development.
"Grey water recycling will be used for the toilets at the leisure centre. This sustainable feature offers reduced mains water consumption and environmental impact."
The green roof uses Protan ProGreen membrane as a base, and is then covered with growth medium. Protan prefabricated the green roof membrane too for Roofdec, enabling more efficient use of material and labour on site
A spokesperson for Kirkless Council added: "Managed by Kirklees Active Leisure, it will be a flagship centre, with two sports halls, swimming pool, fitness suite, climbing wall, squash courts, martial arts…the biggest and best leisure centre in the area."
Protan's prefabricated system uses Protan SE single ply membrane, which has been developed to withstand even the harshest weather conditions found in Europe, and is proven to perform for 30 years. The membrane is factory-welded to order, with Protan's in-house Proplan software calculating the most efficient usage of material to minimise waste.
Protan says studies have shown that its prefabricated roof process can cut welding by up to 70%. On a typical 10,000m2 roof, this will save the equivalent of 60 hours labour and the associated costs.
The Protan prefabricated system is cost-competitive with standard single ply roof membrane, even before the latter's welding costs are factored in.