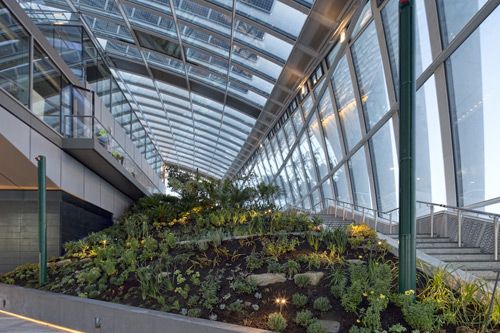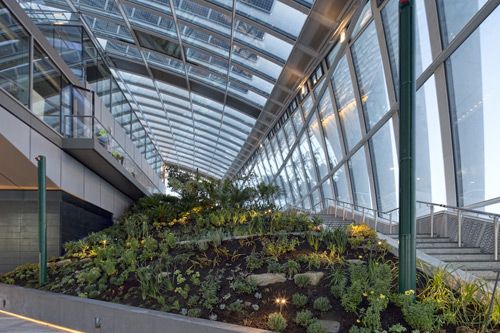 Prater says it has played an integral role in delivering Canary Wharf Group and Land Securities' multi-faceted skyscraper 20 Fenchurch Street, commonly known as the 'Walkie Talkie.'
The specialist contractor's expertise and workmanship helped address the logistical challenges of installing an inverted roofing system and waterproofing package for the complex building.
Designed by Uruguayan architect Rafael Viñoly, 20 Fenchurch Street is home to London's highest public park at 525ft above street level and is one of the most recent additions to London's skyline. The building has an outdoor viewing deck, a bar and seating area, two restaurants and an extensive Sky Garden, which consists of drought resistant Mediterranean and South African flowers, shrubs and ferns.
Prater began work on the site in 2013 and was responsible for the inverted roofing system and 2,000m² of waterproofing on the ground floor, which helped to form the construction of several huge planters. The majority of materials used were liquid applied systems from Radmat Building Products, including Paraflex and Permaquick. Glass internal cladding systems were also installed over the concrete decks from ground up to the second floor level, and then further to levels 30, 34, 35, 36, 37 and 38.
Gavin Hamblett, managing director of Prater said: "Prater was appointed due to our proven track record in delivering complex projects to a strict deadline and to an exceptional standard. The execution of our remit at 20 Fenchurch Street was no different. By the nature of its multi-layered top-heavy design, the shape and inventiveness of the building posed many roofing challenges. The roof's steep 45˚ angle meant that installing the waterproofing required precise measurements, an uncompromising approach to health and safety as well as a high level of skill from our delivery team.
"The project to deliver the roofing package and waterproofing was completed in 18 months – on time and on budget. We are extremely proud of the work from our team however collaboration is always the key to a successful project, and the close relationship throughout the process with Canary Wharf Group and Land Securities was a complete success."