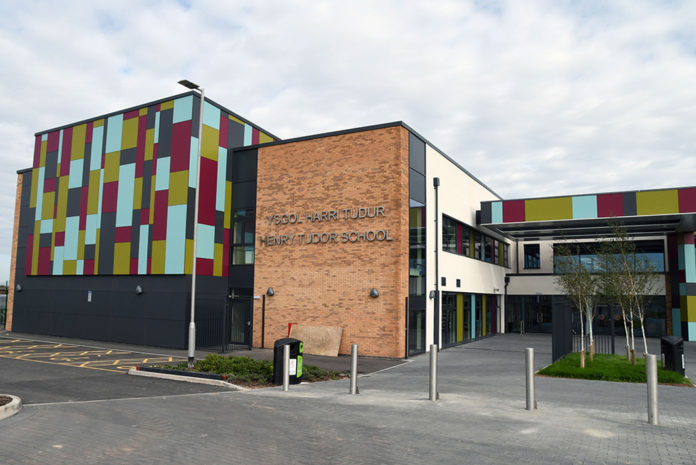 When a flexible, watertight roof system was required for a multi-million-pound new school building designed for students with mainstream and specialist educational needs, Sika-Trocal was called upon to supply the solution.
Pembroke Learning Campus in Pembrokeshire, West Wales, comprises a 1,463-place secondary and 30-pupil autism centre.
The facility has been built under the 21st Century Schools and Education Programme – a collaboration between Pembrokeshire County Council and the Welsh Government – and is the largest school project undertaken by the local authority. For such a crucial, high-profile programme the need for a modern, failsafe roof installation that offered optimum protection was paramount. The qualities of Sika-Trocal's single-ply Type 'S' proved to be the ideal membrane for the task.
Roof installation works on the new school, which opened in September 2018 and is set within a 122-acre site, began in November 2016. Specified by award-winning RIBA architects, Austin-Smith Lord, and installed by contractors, Bouygues UK, the slate grey Type 'S' membrane was required to cover a roofing area totalling 4,874 m².
As well as the vastness of the project itself, the biggest challenge for Roofing contractors, Darlington Bros Ltd, was incorporating a significant amount of heavy plant material within the design. This was comfortably overcome thanks to the Type 'S' membrane's superb flexibility allowing for the retrofit of complicated details. The membrane was mechanically-fastened to the PIR insulation board. Sika-Trocal Type S-Vap 500E provided the system's high-performance vapour control layer.
Bouygues UK, said: "This was a huge, prestigious project and one that required a product known throughout the industry for its adaptability as well as its strength and reliability. Sika-Trocal's Type 'S' is in a field of one as far those properties are concerned. It made simple, comfortable work of a potentially challenging installation."
The ease with which the Type 'S' membrane was installed, coupled with the contractor's skill and diligence, meant the new school building was covered with a smart, watertight roof that will withstand the rigours of time and the elements for many years to come.