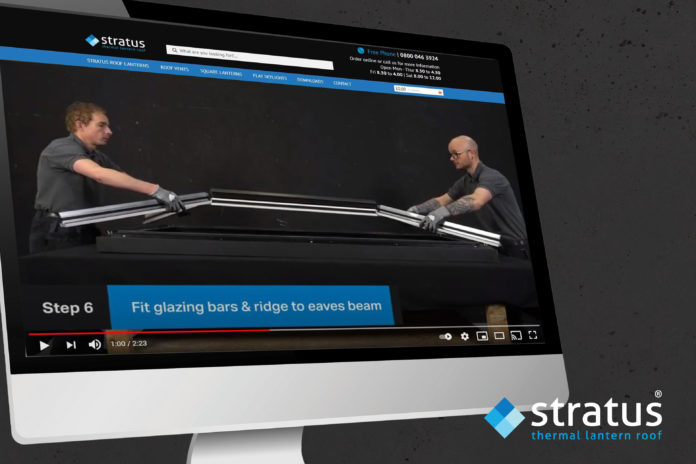 Stratus has launched a new installation video which details step-by-step how to install the Stratus Aluminium Roof Lantern.
Chloe McGrath, marketing manager at Stratus, said: "We know that videos are a great asset to quickly help our customers while on-site and so we have created a video guide to installing the Stratus Thermal Lantern.
"The video details the installation process in a series of 12 simple steps and features useful hints and tips along the way."
The video, which is available on the Stratus website, as well as on YouTube, is also available to be personalised with customer logos at the beginning and end.
"We offer a free personalisation service for this video, just as we do already for the Stratus retail video, which explains the many benefits of choosing a Stratus Lantern to a homeowner," said Chloe.
"We believe that these videos are a great asset to our customers and are just one part of the support package on offer to Stratus Lantern users. The Stratus marketing team is here to help with any marketing queries our customers may have, and earlier this year, we launched a brand-new marketing support brochure to detail our extensive marketing offering to our customers. Making marketing easy for our customers is a must."
Stratus customers can order everything from retail brochures through to handy wallcharts and samples of the popular lantern roof, along with accessing sales presentations and the personalised videos.
While the Stratus marketing offer continues to be enhanced, so too does the product itself. Since 1 March, the Stratus Aluminium Lantern has been available in any RAL colour, which is ideal for those wanting to add a splash of colour to their homes.
The Stratus Lantern is up to 65% more thermally efficient than conventional aluminium lantern roof systems and boasts a contemporary ridge which is 66% smaller than standard systems. The hardwearing aluminium exterior gives a premium, architectural look to the lantern, which is available in a range of designs, including four-way pyramid.
To find out more information, email Marketing@stratus-lantern.co.uk, or visit https://bit.ly/37vA5JJ.