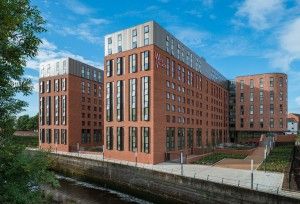 Property developer Downing says it has continued its reputation for innovation, through to the roof at one of its latest projects, the £60m Beith St in Glasgow.
To help accommodate the city's growing student population, Downing has built two X ten-storey blocks delivering 701 student rooms. To achieve optimum build speed, Protan's unique single ply roofing vacuum system has been installed.
Contractor McKay Roofing recommended Protan's vacuum technology to help address Downing's requirements of a system that delivered speed of install, even at ten storeys high, and the need to detail around over 30 service penetrations across the 1750m² roof.
Protan's Fraser Maitland commented: "An adhered system was originally specified, but that would require a huge number of fixings because of the complexity and height of the roof.
"Protan is unique in freeing a vacuum system, but the concept was ideal for this: it is much quicker to install, requires fewer fixings, and the height of the roofs and exposed location on the banks of the River Kelvin suits its performance principles."
Dark grey Protan EXG 1.6mm membrane was loose-laid directly onto the bituminous vapour control layer, which had been spot-bonded to polystyrene and mineral wool insulation. The Protan EXG (specifically manufactured for use directly onto polystyrene insulation) was mechanically-fixed at the perimeter, and the Protan vacuum vents inserted across the roof plane.