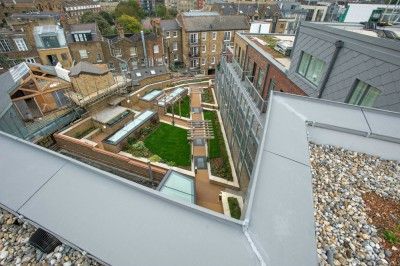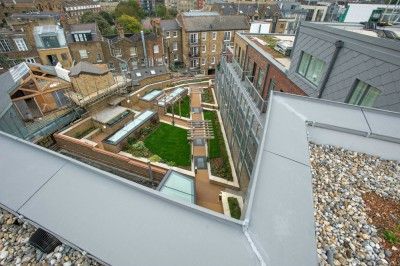 Sika Sarnafil has teamed up with Sky Garden and Contour Roofing to provide a clever roofing solution for Bermondsey Village, a BREEAM certified mixed-use new build development providing luxury apartments with a communal garden area and balconies.
The design of the building reflects the eclectic and exciting architectural context of the surrounding area.
The modern style of the apartments required a roofing solution that would look stunning and offer high performance. At one time, a roof was seen only as a means of protecting a building from the elements, but now it is increasingly being seen as a valuable space that can be utilised. The client needed a bio-diverse, sustainable communal garden and roof as part of the project.
The project was split into three parts – the accessible green roof for residents on the first floor, then the green roof and brown roof at a higher level. These were chosen for their aesthetic values – as they could be seen from surrounding buildings – and to assist with the disposal of rainwater.
The project was originally specified in hot melt, however this product specification wasn't possible as it wouldn't give the desired aesthetic finish the client and architect required.
The client wanted an 'all-singing, all-dancing' solution that would deliver superior performance and a flawless finish, in line with the luxury flats. Jonathan Woods, of Contour Roofing, suggested using Sika products, as the roofing project was complex and expansive, requiring expert advice and planning.
Sika says it was a challenge to change the specification at a late stage, but Contour, working in close partnership with Sika, provided a solution that met – and exceeded – the client's expectations.
Work was undertaken to cover the main roof, balconies and podium over a car park using a full warm ballasted system with Sarnafil G410-18EL Light Grey as the main roof sheet, and Sarnafil G410-15EL Light Grey and S327-15EL Light Grey for the flashings. The design of the communal gardens was intricate and detailed, especially around rooflights, podium and upstands.
Sikalastic Liquid Applied Membrane was used on some of the detail areas and the balconies, demonstrating the great compatibility between Sika's various roofing products. The company says that all work was finished to a high standard, as was the aesthetic requirement of the client, achieving a 20-year guarantee from Sika.
All work was completed in early 2015 and independently tested by Thornton Consulting to make sure it was of the highest quality, passing with flying colours.