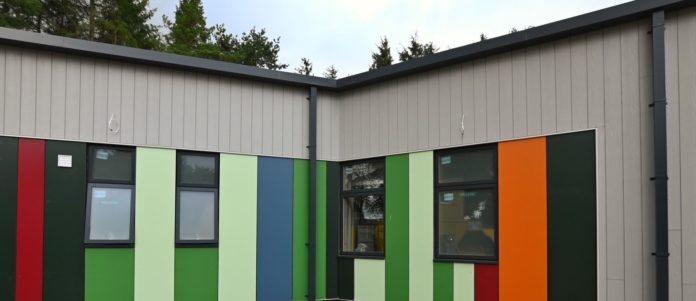 These days rainscreen cladding is one of the most, if not the most, efficient cladding system for construction envelopes. So, what exactly is rainscreen cladding? Andy Jack, business development manager at GL Roofing, explains more in this blog post.
Rainscreen cladding is an external system designed to protect the structure of a building from the elements.
It's an outer skin or shell that can be added to a new or existing building to improve its overall efficiency. This additional layer on the building structure uses wind to control rainwater, preventing it from entering the building. It is incredibly durable and can be used with most modern architecture to fit all designs.
Rainscreen cladding systems provide an energy-saving façade to the building. When it is combined with external insulation, several thermal advantages reduce energy costs and noise pollution in the building.
How does rainscreen cladding work?
The rainscreen cladding system is made of a double-wall construction, a bearing wall and an insulation layer. The cladding material is fixed to the building using the supporting structure. The cladding layer prevents the force of wind-driven water movement, which in turn prevents rainwater from getting through small breaches in the surface of a building.
An air cavity is created between the cladding and the load-bearing wall, allowing continuous ventilation throughout the building.
Rainscreen cladding was first developed in Scandinavia back in the 1940's, and since then, the technology has been ever evolving and has continuously been improving.
Spreading across Europe, then Canada and finally globally, the technology has proved most popular in the harsh climate of Scotland.
Providing all manners of rainscreen cladding services, GL Roofing has found five key benefits that will enhance the building and increase its lifespan:
Thermal performance and acoustic insulation
When you opt to combine an insulation layer with a rainscreen cladding system, the building's thermal and acoustic insulation will improve significantly. This enhanced performance allows designers to create the most efficient envelops to meet the highest environmental standard. Environmental pollution reduction has a significant impact on the health and safety of those who work in the building due to reduced noise and exposure to harsh weather conditions.
Easy installation and low maintenance
Rainscreen cladding is usually far more straightforward and quicker to install than traditional, bulkier envelope constructions. Also, it requires little to no maintenance to upkeep. The materials used in rainscreen cladding are typically recyclable, which improves sustainability and allows you to reduce your carbon footprint (due to both energy savings and the materials used on the project).
Reduced energy costs and carbon footprint
Rainscreen cladding systems are a highly sustainable option with a good return on investment. They are known to reduce energy bills by as much as 30-40% annually. The cladding keeps a building cooler in the summer and allows advanced heat control in the winter. Energy is saved using three different methods:
Limiting air leakage
Thermal insulation
Forming an additional layer of air to enhance the insulation.
Advanced waterproofing
These multilayer building façades protect a building from the rain in three separate ways:
Shielding from direct rainfall
Reducing humidity and condensation from both inside and outside the building with a continuous circulation of air
Protecting building joints from water damage.
Reduction of structural damage
Extreme temperature changes in a building can cause it to expand or contract, which can in turn cause damage. With rainscreen cladding, the air stability within the air cavity dramatically reduces the risk of cracks and other structural problems.
To summarise…
Rainscreen cladding systems are a modern, energy-efficient, and money-saving solution. Their durability and return on investment make them an ideal choice for both new construction and refurbishment projects.