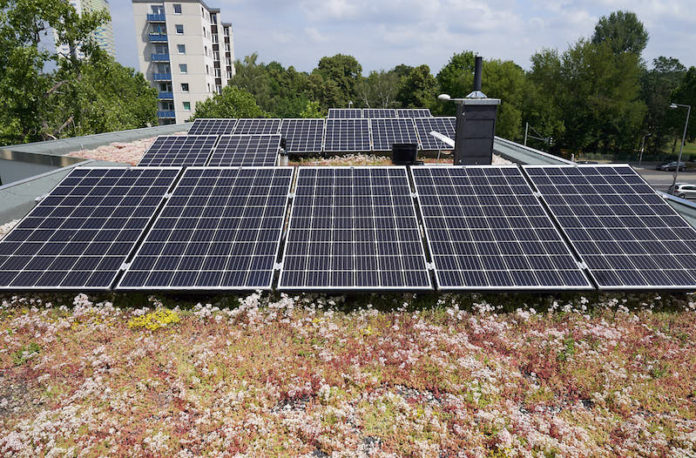 There are many advantages to the combination of green roofs and photovoltaics, which are often referred to as biosolar roofs.
Evaporative cooling of vegetation leads to an increase in the efficiency of the photovoltaic system. At the same time, the green roof makes an important contribution to preserving the natural water balance and increasing biodiversity.
The new Optigrün Solar FKD and Solar WRB are both load-supported solar mounting frames for penetration-free roof mounting of PV modules in combination with an extensive green roof system.
The Optigrün Solar FKD solution is suitable for use as part of an extensive sedum or wildflower planted specification. The base has the same water storage and drainage function as Optigrün's standard drainage and reservoir boards and will, therefore, support vegetation growth under the PV array, thereby maximising the green roof area.
Meanwhile, the Optigrün Solar WRB solution can be used, alongside their flow control system, as part of a soft- landscaped blue roof specification, providing rainwater attenuation and discharge delay, as well as water storage for vegetation via a capillary system.
The versatile subframe assembly makes it possible to mount almost all standard solar modules, with inclines of 10°, 15° or 20°. The rows of modules can be installed in a south-facing or east-west orientation. The modules can be attached to it both vertically and horizontally.
Optigrün provides full technical and specification support for this new range, including the production of full PV module layouts optimised for local wind conditions.
To find out more information, visit www.optigruen.co.uk, email enquiries@optigreen.co.uk or phone 0203 5899 401.