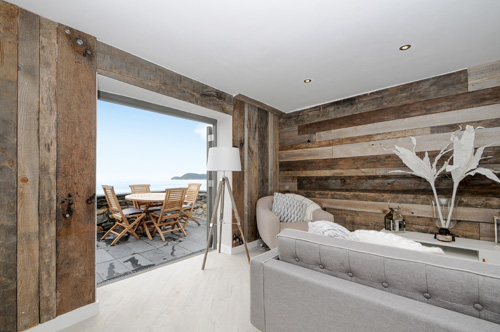 This slideshow requires JavaScript.
Situated at the curve of the bay, the ramshackle building was built in 1771 and served as a fishermen's net store for more than 100 years. It was converted into a public toilet are the war
When property developer Charlotte Thomson and fiancé Joey Auger bought a derelict public toilet in Cornwall, they had their work cut out for them. The couple planned to turn the 200-year-old building into a romantic cliff-top retreat.
To get that cosy home feeling, one important step was to insulate the solid-wall building. They installed Celotex GA4000 in the roof and spent around seven months overhauling the old loo to create a beautiful, modern abode.
They purchased the loo – along with garden on the other side of a public footpath – for £115,000, well above the £70,000 asking price. Charlotte admits she got "excited" about the building's potential, but it was also a big gamble since they weren't sure they'd be able to get planning permission for a change of use.
To make the most of the small floor plan, Charlotte and Joey decided to raise the roof and build a second floor, which would include two bedrooms, one an en suite master bedroom with a roll-top bath next to a window looking out to sea. This work was handed over to the professionals and required more time and expense than expected. But once the new roof was finished and the second-floor structure installed, it was time to get started on the interior.
One important step in this process was to insulate the property and for this Charlotte and Joey decided to use Celotex GA4000 to insulate the building, and it was installed in the floor, walls and roof.
Charlotte said they chose Celotex because they've used it before in other renovation projects and have always been pleased with its high-quality and durability on site.
Celotex GA4000 is a multi-purpose PIR insulation board that's ideal for pitched roof applications. It was supplied in boards measuring 1200 x 2400 mm, and Charlotte was able to cut them to size using a handsaw.
Charlotte explained: "Because we used so much of it throughout the property, cutting and fitting it was almost second nature towards the end of the build.
"I liked the fact that there was little mess or dust when cutting it, and that it didn't bend or collapse when it was fitted in the ceiling (it's a hard enough job as it is!)."
The insulation boards were easily attached under the rafters, and then they were covered and painted over for a seamless finish.
Once the project was complete, Charlotte and Joey considered selling it. The house, now called Harbour Lights, was valued at nearly £600,000 and was listed as one of Coast Magazine's 9 Homes to Buy Beside the Sea in January 2017.
However the couple has since decided to keep the property and let it out as a holiday home.