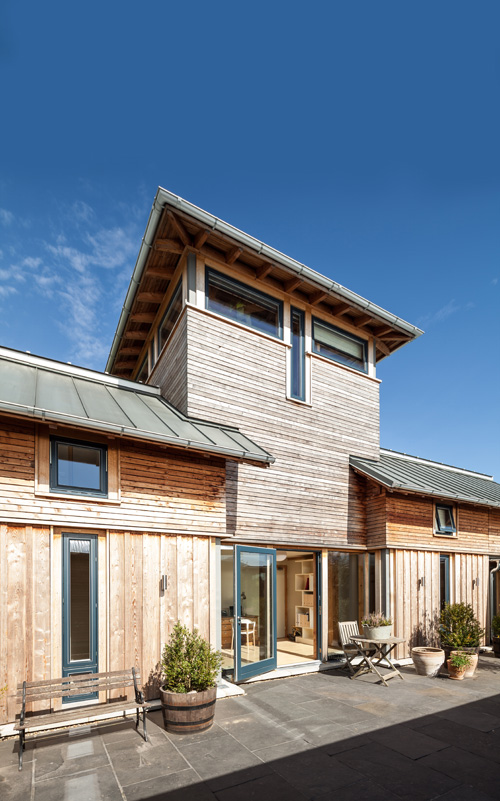 James Gray and wife Claudia set out to transform a 30-acre patch of farmland in North Essex into a unique timber home for the entire family. With energy efficiency a key driver within their brief, the implementation of floor insulation Celotex FI5000 was a must.
Whilst their ambition was to create an energy-efficient, child-friendly home, this was to be no ordinary project: the land was once home to a Second World War airbase, occupied by the USAF 381st bombardment group and complete with the finest surviving Nissen hut complexes still remaining in the UK.
Therefore James and Claudia were determined to discover and re-shape the underlying history engraved within the Essex farmland.
Carefully-positioned rooflights ensure the property is well-lit by diffused natural light, whilst the independant areas are intertwined by a walkway leading to the heart of the property – a central courtyard providing a safe repose for the children.
In order to integrate the proposed design with the land's historic past, steel tension rods and curved roofing were introduced into the timber framework to create an interesting juxtaposition of old and new.
Another consideration, aside from the architectural design, was to ensure that the project build was highly energy efficient. By using dynamic thermal modeling to predict the home's performance, designer Cameron was able to fully optimise the use of floor and glazing construction to best ensure the building maintains the right temperatures all year round.
165mm of Celotex FI5000 was specified for the flooring insulation, providing a lambda value of 0.21 W/mK.
Manufactured from rigid polyisocy-anurate (PIR), Celotex FI5000 is constructed using a blowing agent that achieves zero ozone depletion potential (ODP) and a low global warming potential (GWP).
Celotex's flooring insulation product also eliminated the need for an additional separating layer, as the product features a cement compatible composite facer with a built-in vapour control layer.
Due to its high compressive strength rating of ≤175 kPa and excellent dimensional stability, the installers were also able to walk on the insulation directly during the entire installation process. An added benefit is the increased clip retention capabilities that the industry leading compressive strength achieves.
This energy-efficient home demonstrates how James and Claudia succeeded in changing the dynamics of this once industrial site, transforming a rather unforgiving place into a home of warmth and beauty. Just as it was no ordinary farmland, they're also continuing to treat the completed renovation as more than just their property, by opening up the building for special weekends to celebrate and preserve the remarkable achievements from the Second World War.
For a range of specification tools, e-learning video tutorials and more visit: www.celotex.co.uk/members-area