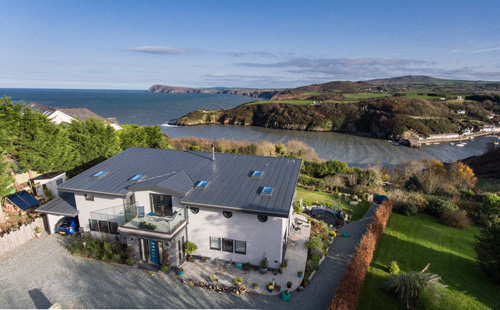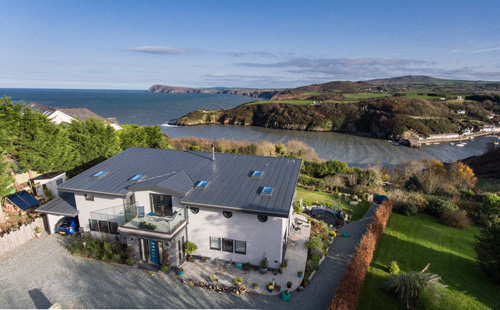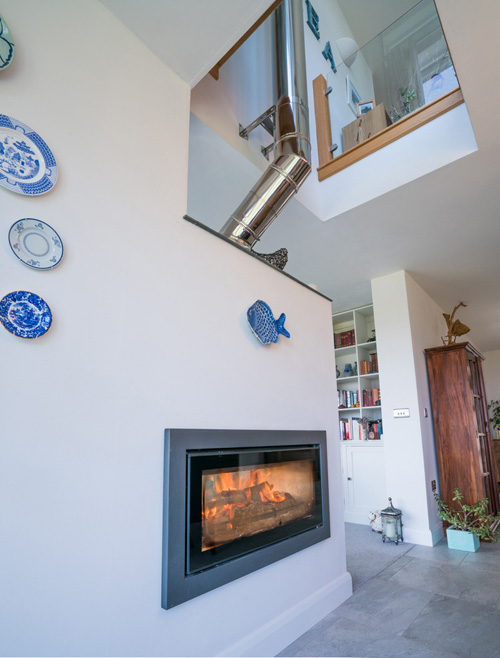 When it came to the design brief for the property, the owners Sue and Dick Russill, who are keen walkers wanted to make the most of the panoramic views of the Pembrokeshire Coast.
Dick said: "Our main design considerations were to maximise the enjoyment of the views, to make the house eco-friendly, not to go overboard with technical gadgetry, to be able to accommodate visitors in great comfort and to ensure a non-obtrusive visual impact given the beauty of the surrounding countryside and coastline."
The couple wanted the construction to be timber-frame with high levels of thermal insulation, and for the home to be able to make the most of passive solar gain. They also wanted to have plenty of glazing so that someone entering the house from the front door could come inside and immediately see straight through to the sea views out the back.
Working with Scandia-Hus, a designer and supplier of Swedish energy-saving homes, Sue and Dick were able to come up with a design that matched all their requirements, as well as their budget.
Bluestone Builders were also able to help the Russils achieve their dream home and increase the already high levels of insulation to ensure sustained thermal comfort.
The wall insulation comprised 70mm of rigid insulation panels using Celotex GA4000, along with a multifoil blanket enveloping the exterior frame. The pitched roof insulation included 120mm Celotex XR4000 boards, as well as bubble insulation membrane and mineral-wool cladding.
Both Celotex GA4000 and Celotex XR4000 enabled the pitched roof and flooring throughout the property to achieve lower U-values, with the inclusion of low emissivity foil facings further enhancing thermal performance within cavity air spaces. Both certified under BBA certificate number 95/3197 and 16/5352, with low global warming potential (GWP) and zero ozone depletion potential (ODP). Celotex XR4000 and Celotex GA4000 were not only easy to install, but crucially were able to future-proof the energy performance of the Pembrokeshire property.
Aside from insulation requirements, the exterior was covered in fibre-cement cladding in a grey colour that complemented the contemporary appearance of the building, whilst fitting in well with the surroundings.
The Russills say their home surpasses their expectations, with its bright and airy rooms and panoramic views.
Sue also commented that visitors: "Can't believe how warm and comfortable it is, even without the heating on". She says this is the result of the high levels of thermal insulation, as well as the large amount of glazing on the eastern-facing side of the house, which maximises solar gain.
The cliff-top home spans 282m2 across two storeys. Designed to make the most of the stunning vistas, Sue and Dick Russill can now enjoy the views from their energy-saving, stunning property.
For a comprehensive range of specification tools, installation videos, Celotex's Academy and more, log into the Members Area.