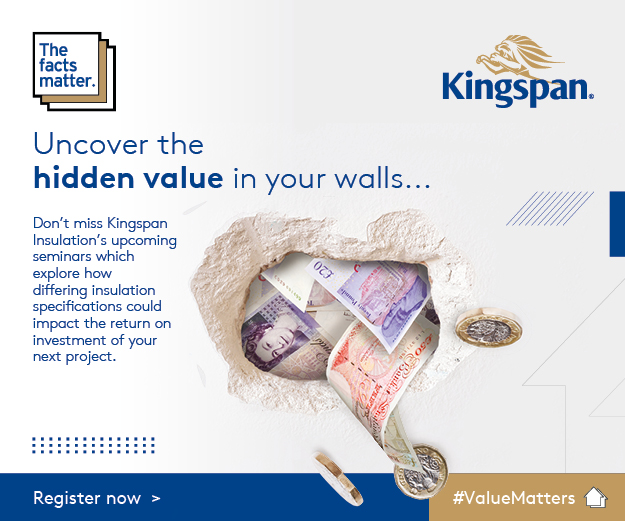 This March, Kingspan Insulation invites you to a free seminar series with top industry experts discussing how our built environment is changing in response to the climate crisis and exploring the long-term financial returns that developers can achieve by investing in leading building fabric solutions.
The Building Efficiency seminars will take place at Lords Cricket Ground in London on March 11, Old Trafford Football Ground in Manchester on March 25, and the Assembly Rooms in Edinburgh on March 31.
The guest speaker programme includes:
John Palmer – Passivhaus Trust
Paul Ashford and Tobias Parker, Anthesis-Caleb: Importance of the Built Environment in the Battle Against Climate Change
Julian Venus, Aquarian Cladding: Traditional Brick Façades using Modern Methods of Construction
Jess Ralston and Scott Blance, Sustainable Energy Association: Decarbonising Non-Domestic Buildings: Wrap then Heat*
* Please note not all speakers will be attending all events.
Adam Mactavish from leading consultants, Currie & Brown, will also be presenting detailed research assessing how the thermal performance of wall insulation can impact floor space within commercial and domestic buildings, quantifying the real value of additional rentable floor space.
Places are strictly limited so book now to avoid disappointment: https://www.kingspan.com/gb/en-gb/products/insulation/services/continuing-professional-development-cpd/building-efficiency-seminar