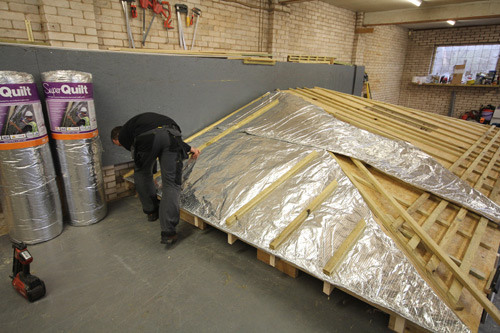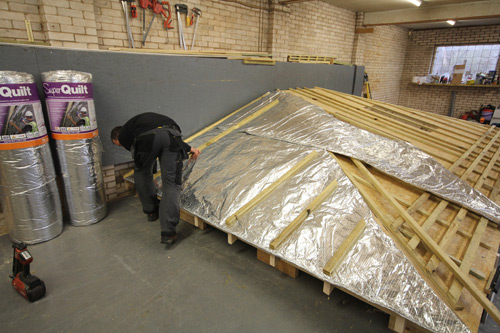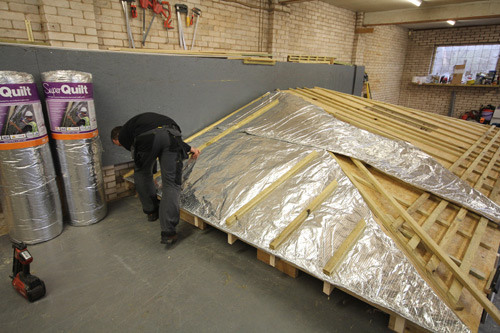 Insullite, a Manchester–based manufacturer specialising in the upgrade of existing conservatory structures, is making extensive use of multi–foil insulation from YBS in the construction of its replacement roofs.
The company aims to enable property owners to make use of their outdoor rooms all year round and to achieve this a lightweight, timber–framed replacement roof structure using YBS SuperQuilt multi–layer insulation was developed. YBS says that the choice of its BBA accredited product ensures that the Insullite conservatory roof achieves Building Regulation approval, while maintaining a low profile appearance complementary to existing conservatories.
Neil Birchall, managing director of Insullite, commented: "The Insullite solid tiled conservatory roof has been intelligently designed to solve all of the common problems that conservatory owners face; we do this by using a multi–layered foil insulation system. Our solution features a SuperQuilt 19 layer multi–foil insulation, which has an excellent thermal value as it deflects the extreme hot and cold temperatures away from the occupied space. We also employ a sound deadening insulation, which unlike rigid materials, completely silences the weather.
"This intelligent use of insulation technologies means that the Insullite tiled conservatory roof achieves a U–value of 0-18 W/m2 K – meaning the insulation system is one of the best on the market. Conventional conservatories with glass or Perspex roofs are either freezing cold in winter or boiling hot in sunny summer weather, owners choosing our solution can enjoy their conservatory all year round."
Explaining why his company chose YBS as a key supplier, Birchall added: "We assessed all of the multi–foil products available on the market and found that YBS SuperQuilt best suited our system needs. This was partly because we needed one that was externally reflective to combat solar gain in hot weather and also it is fitter friendly, being cross–stitched and therefore rip resistant.
"Thanks to the thermal performance that we can offer and our ability to produce an improved, tiled roof for any size of existing conservatory, we are seeing business growing steadily with turnover now in excess of £1 million a year."
Recognised by the NHBC and compliant with the current version of Approved Document L to the Building Regulations, SuperQuilt comprises of 19 layers including reflective foil, expanded polyethylene and polyester wadding, which they say provides a cost effective and user–friendly alternative to much thicker insulation materials. Installed with a 25mm cavity, the company says that it controls not just radiated energy, but thermal conduction and convection. It creates an effective vapour control layer and will also combat thermal overheating in the summer months.
Insullite roofs featuring YBS Super Quilt insulation solid tiled conservatory roofs can be seen at www.insullite.co.uk