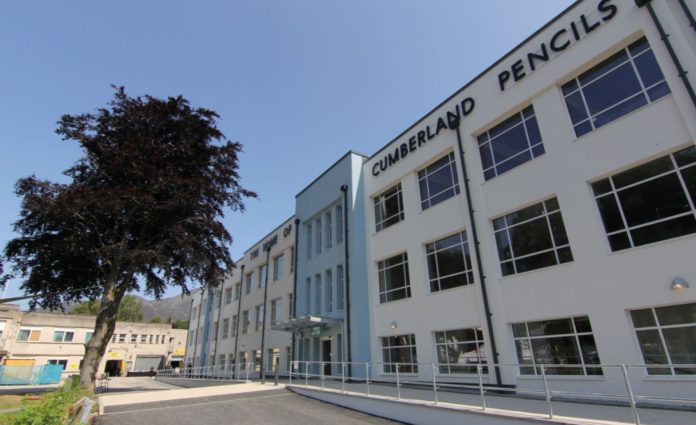 A historic landmark in the Lake District has been given a new lease of life with the installation of StoTherm Mineral K external wall insulation and StoSilco finishing render.
Built in 1937, the building in Keswick originally housed the UK's first pencil factory, and now provides a new headquarters and site for the Keswick Convention for the Keswick Ministries organisation.
Set at the entrance to Keswick, this important local landmark has now embarked on a £10.5 million redevelopment project, split into four phases. The Sto materials have been used on the first phase which has seen the building's front elevation fully restored, and they have also been specified for the remaining three stages of the work.
Ashley Wainwright, head of sales for Sto, explains: "This is a very important development for Keswick Ministries, and so it was important that they undertake this project using the best materials for the job.
"We worked closely with them to design the ideal external wall insulation system which would combine outstanding thermal insulation with a very impressive façade finish. Our StoTherm Mineral system is ideal for this type of building, as the various fixing options it offers can accommodate all types of substrates that are normally found on refurbishment projects."
The BBA-certified StoTherm Mineral K system combines impressive insulation with unrivalled fire protection characteristics. It features Sto-Mineral Fibre thermal insulation boards, which in this case, were fixed to the substrate using StoLevel Duo Plus mineral bonding and reinforcing mortar.
Alan Rees of Eco Rend North East, added: "This allows any unevenness in the surface of the substrate to be accommodated and makes installation a fast and easy process."
This efficient single-leaf construction allows for excellent thermal performance without reducing the interior space, and as it requires no additional expansion joints, a smooth and unbroken exterior surface can be created.
An additional mineral reinforcing coat was applied, and the exterior surface was finished with StoSilco silicone resin render. With high CO2 and water-vapour permeability, StoSilco render allows a weather- and water-repellent outer surface to be created in any of the 800 colours available in the StoColor System.