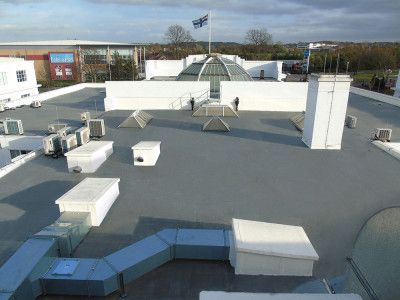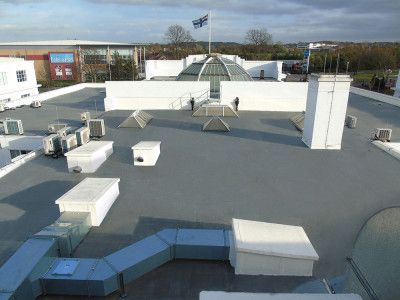 Triflex has supported the recent refurbishment of London's first international airport in Croydon, converting the now Grade II listed main terminal building and accompanying control tower into modern office spaces and visitor centre.
In 2014, Cardoe Martin Burr was instructed to submit an application for Listed Building Consent in relation to the renewal of a portion of the structural roof deck, which was at the end of its serviceable life. The existing pre-cast concrete units had failed as a result of their reinforcement corroding over time.
Triflex was engaged to conduct an extensive roof survey, of which it says a fundamental part was the core testing to establish the integrity of the existing insulation. Adhesion tests were also to be carried out to ensure the existing substrate of the bituminous felt membrane was suitable for the bonding of a foil-faced PIR insulation board.
The company then specified Triflex ProWarm: an engineered solution comprising a high quality insulation media, inclusive of a robust preparation layer coupled with the Triflex ProTect cold, liquid applied seamless waterproofing system.
Triflex says the system has the added benefit of being hydrolysis resistant and therefore suitable for zero pitch roofs and also provides a fast, cost-effective solution and guaranteed long-term performance.
A feature of the re-roofing works carried out by WAA Roofing was the integration of all roof edge details, which were completed using Triflex ProDetail in a specially manufactured white finish to blend with the exterior façade of Airport House.