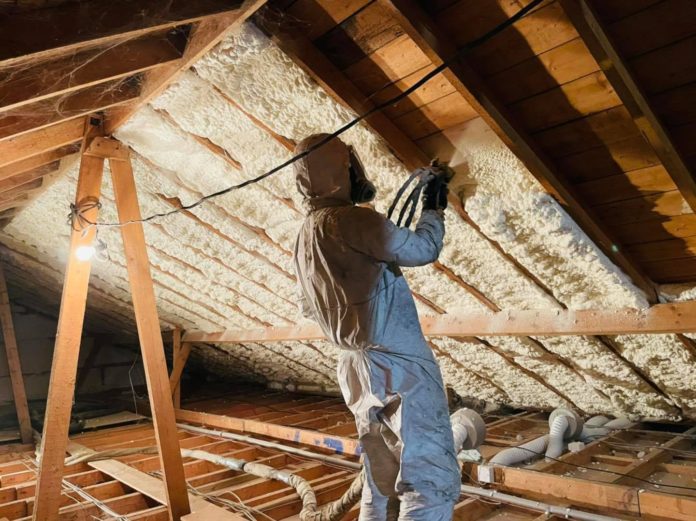 Launched by a Cornish company, Spray Foam Training Ltd will lead the first course in the new government-backed spray foam application Level 3 NVQ.
Spray Foam Training Ltd is the first business in the country to offer the new Spray Foam Insulation Applicator NVQ Diploma. Students who enrol this year will be amongst the first to be awarded the qualifications in the world.
"This certification is long overdue in the industry so it's a tremendous honour to be the first to offer it," commented Steve Jewell, chief executive officer of Spray Foam Training. "Spray foam insulation has been around for decades and is already providing increased comfort and energy efficiency in countless homes across the country, so it's great to finally be able to provide an official qualification in its application and installation." 
The course is the first of its kind available in the UK, being backed by both the government and the Awarding Body for Building Education (ABBE) and certifies recipients to work with spray foam in both residential and commercial settings.
"We can't wait to get up to Sheffield and into the training centre, although ultimately, our aim is to run an equal share of the courses from a southern base." Steve added. "The team who will be leading the courses are all experts in spray foam who have worked in the industry for a number of years. They've put the course together themselves to ensure a comprehensive, thorough learning experience that prepares learners for a lifelong career." 
Previously, a qualification in applying spray foam insulation has been difficult to gain, with businesses having to invest heavily in expensive rigs to begin their journey. Now, this NVQ Diploma represents industry-wide training that can both create new jobs and validate long standing organisations.
The fledgling business only has eyes for further growth from here, believing that spray foam insulation will soon become the popular choice amongst homeowners.
Steve continued: "The accreditation is particularly great for those who have been working with spray foam their whole career, as well as those looking for a way into the insulation world.
"Overall, it will really push the industry forward and bring it to the front of the public's mind much sooner – which has always been something we felt was inevitable – so it's nice to help push forward with that goal through the launch of the NVQ qualification." 
Peter Roseveare, a tutor from Spray Foam Training, added: "The fact that the training is backed by the government shows its credentials and potential for development, and we learnt a lot developing the content of the course and accompanying handbook working alongside the ABBE
"Since announcing the qualification, we've been swamped with interest from businesses we already have great relationships with, and we can't wait for the diploma to start conversations with those we've never worked with before – including those looking to take their first steps in spray foam insulation!"