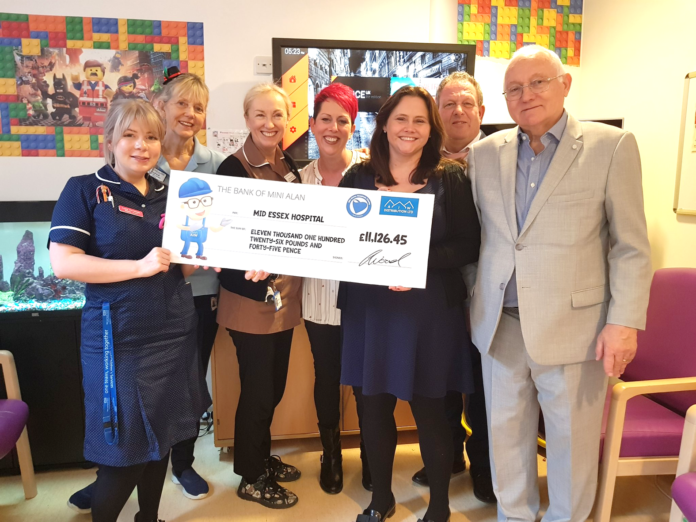 Just before Christmas AJW Distribution (AJW) visited its charity of the year 'Phoenix Ward' at Bloomfield Hospital to present them with a cheque for the amount raised during 2019, which was £11,126.45.
The support for this charity was inspired by eight-year-old Harrison Hart whose dad Shaun works at AJW's Witham depot. Harrison has a rare form of life-threatening epilepsy and regularly attends Phoenix Ward for treatment.
Alan Woods, Charlotte Woods and Donald Goldsworthy-Ellson from AJW, and Harrison's mum Debbie Hart, had a tour of the ward and saw the fish tank, wall art and garden toys that some of the company's donation had bought. The monies raised will also go towards purchasing new monitors for the ward's assessment bay.
In July, 'Team Harrison' completed a 24-hour cycle challenge that saw seven cyclists hit the road for a 73.5 ride between the firm's Cambridgeshire and Witham depots. Members of the AJW team then jumped on a static bike and cycled through the night until 7.30am the following morning.
The AJW golf day was also a huge success with 19 teams of suppliers and customers battling it out at the Cambridgeshire Golf Club. The team secured sponsorship for every hole on the course and over £4,500 was made from the raffle and auction. 
For a final push for monies at the end of last year, AJW put together a Christmas tombola which saw another £250 raised from the generosity of local customers.
Mel Hodge, senior sister on Phoenix ward, was delighted with the donation: "It's a fantastic amount of money and I'd like to say a huge thank you to everyone at AJW for their wonderful support. The monitors we are going to buy will really benefit patients and staff, and they have already made a big difference to Phoenix as the fish tank and wall stickers have really brightened up the ward.
"Harrison has spent quite a lot of time with us here and we're very grateful to his parents Sean and Debbie and all the team at AJW."
Charlotte Woods, AJW's marketing director, added: "Phoenix Ward is a cause close to our hearts as we've all met Harrison a number of times, so we wanted to raise as much as we could.
"We've been overwhelmed by the generosity of our customers and suppliers and it's really nice to see where the money has been used. It's really pulled on our heartstrings to see children who are unwell, but it's great that the money we've raised has been used to make their stay in hospital a little bit brighter."