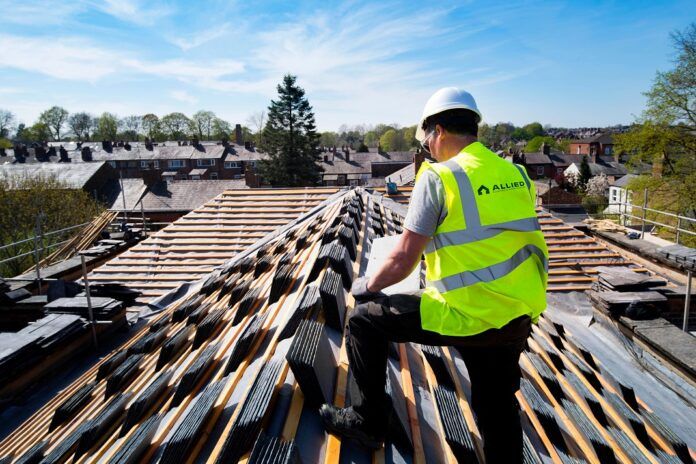 Stockport-based roofing company, Allied Roofing & Construction, has launched its new look as part of a major rebrand following the company's acquisition by Complete Investments Group last year.
Allied Roofing has specialised in pitched roofing for the last 34 years, primarily working with housing associations, other public sector clients and commercial clients, as well as on large domestic re-roofs across Lancashire, Cheshire and Greater Manchester. The company, which was founded in 1989, is now led by CEO Mike Wharton.
Allied Roofing's rebrand signifies a fresh start after the company was acquired by Complete Investments Group, owner of Complete Roofing Systems, in September 2022 in a seven-figure deal.
The original Allied Roofing logo has been with the company for the last three decades, but in light of the business's projected growth, as well as their enhanced range of services, they have revealed a modernised logo and brand, paired with a new website to reflect the change that is taking place both operationally and technologically.
Beth Wood, marketing manager of Allied Roofing & Construction, said: "We have been working hard these last few months to enhance our roofing services, ensuring our clients receive the very best value and quality of work with every single project. Our new look is a great representation of this.
"Since the acquisition, we have been able to further develop our skills and offering to benefit our client portfolio. So much so, that within the first few weeks, we won our first flat roofing contract. We've also made great progress in improving our operational processes – we've already introduced a new CRM system and we're launching industry-leading ERP software within the next few months."
Mike Wharton, CEO of Allied Roofing & Construction and Complete Roofing Systems, added: "Since acquiring Allied Roofing last year, progress has been moving at a quick pace. We have been working collaboratively to position the business as the go-to choice for high-quality, great value roofing services in the public sector. Our rapid introduction of technology solutions will ensure that clients benefit from fast, clean processes to ensure maximum value.
"Allied Roofing's new website and rebrand portray the positive direction of the business and the improvements that are taking place across the board. I'm looking forward to seeing Allied Roofing flourish this year."