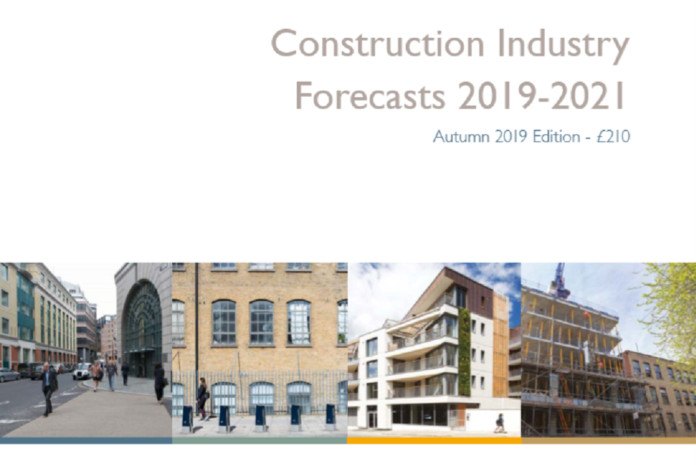 The Construction Products Association's (CPA) Autumn Forecasts for construction output growth in 2020 and 2021 have been downgraded from 1.0% and 1.4% to 0.5% and 0.9% respectively from its summer forecasts.
The downgrade reflects uncertainty around Brexit and major infrastructure delivery, most notably delays and cost overruns with Hinkley Point C and the Review into HS2.
Slowing house price growth and Brexit uncertainty impacting investment in the commercial sector have also contributed to this more pessimistic projection.
The CPA's Forecasts point to the Oakervee Review into HS2, one of the world's largest infrastructure projects, as the key factor now delaying main works beyond the forecast period. The review could change the scope of work on a project that is already warned to be more than £20 billion over budget with delays of between five and seven years, perpetuating the uncertainty linked to infrastructure construction and delivery.
Hinkley Point C, another significant contributor of growth in the infrastructure sector, has also confirmed delays and cost increases for the construction of its nuclear reactors. Meanwhile, Brexit uncertainty is impacting on confidence in the commercial sector with a reluctance to invest in new offices until the UK's relationship with Europe is made clearer and improves the outlook for long-term investment returns.
In the private housing sector, starts are forecast to fall 2.0% this year given slowing house price growth and weaker demand in southern regions of the country, before returning to growth in 2020 as the economy settles and underlying demand for newbuild house purchases is enabled by Help to Buy.
The public housing sector's prospects are more positive due to grant funding on the Shared Ownership and Affordable Homes Programme, although there are signs of vulnerability as housing association development is increasingly linked to the slowdown in the general housing market.