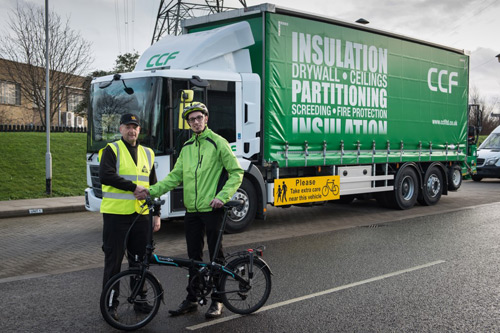 CCF has invested in two brand new Mercedes Econic trucks that will protect vulnerable road users and meet the safety criteria of major contractors in the capital.
The company says that the investment has come as part of its proactive role in the Construction Logistics and Cyclist Safety (CLOCS) programme and its adherence to the Fleet Operator Recognition Scheme (FORS).
Operating from CCF East London and Borehamwood branches, the Econic chassis trucks feature panoramic windscreens and low-level entry cabs to provide improved views and eye contact at the critical nearside front of the vehicle.
Like all new vehicles in the CCF fleet, the trucks are fitted with electronic proximity alerts and one of the Econic vehicles will include a special jubilee Moffett truck mounted forklift, purchased at the manufacturer's 70th anniversary charity auction.
All CCF drivers operating within the Capital have also completed a Safe Urban Driving course, which includes half a day on a bike to provide experience of being a vulnerable road user.
Graham Bellman, fleet director for CCF and the wider Travis Perkins, said: "Investing in two Econic trucks to compliment the additional safety features of our new CCF fleet, alongside a further two for our Keyline and Travis Perkins merchant businesses, allows us to offer unrivalled standards of protection to vulnerable road users in the capital whilst offering a first class delivery service.
"The construction industry is leading the way when it comes to the management of work-related road risks through CLOCS, and we expect to see both this programme and FORS grow outside of London over the next few years. Travis Perkins represents CCF on the advisory boards of both schemes so this significant investment is part of demonstrating our continued proactivity. Plus, we recognise the huge value of demonstrating our safety credentials to major contractors who equally want to adhere to the highest standards possible within London, and increasingly across the UK."