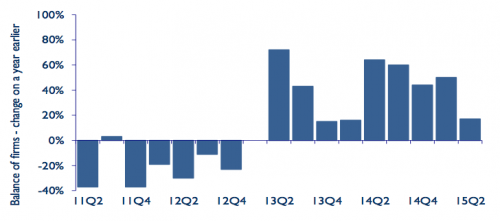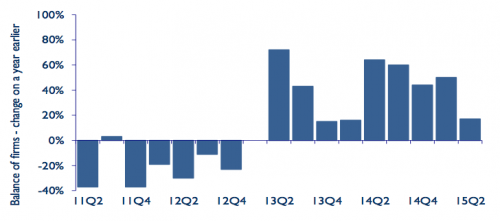 Firms across the construction industry have reported growth in activity in the second quarter of 2015, marking the ninth consecutive quarter of growth and the longest period of post-recession expansion. However, signs have emerged suggesting that the rest of the year may not see such positive activity following reports from large contractors of declining new orders across all sectors.
According to the latest State of Trade survey from the Construction Products Association (CPA), activity rose across the entire construction supply chain in Q2 with increased workloads, output and sales widely reported. This activity has continued to be led by private house-building, commercial and infrastructure projects, with SMEs and specialist contractors in particular seeing continued strength in enquiries. The latest survey period marked the eighth consecutive quarter of growth for civil engineers, who also experienced increased new orders, while product manufacturers were positive about the next 12 months.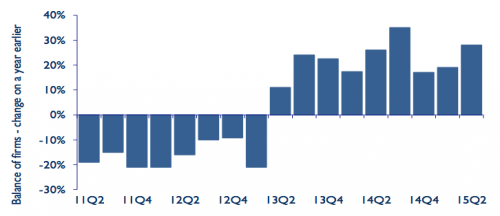 Meanwhile, contractors could be facing difficult times ahead with only 17% of respondents on balance reporting a rise in output compared to a year earlier. This is significantly lower than the balance of 50% reporting a rise in output in Q1, and suggests a slowing in activity after the CPA's survey also found that large contractors were reporting decreasing new orders across all sectors. This is most felt in public new housing, where 44% of respondents reported lower orders than received in the first three months of 2015.
There is also evidence of decline in repair and maintenance (R&M) work, with contractors reporting weakness in the sectors since the fourth quarter of 2014, as a result of Government changes to the Energy Company Obligation (ECO). The CPA says the number of measures installed under ECO has dropped sharply since April, and for the year to May was 46.1% lower than a year earlier. Looking forward, large contractors gave a signal that R&M work will struggle to gain traction, reporting a third quarter of declining orders. The CPA expects activity in the sector to be further constrained by the cancellation of the Green Deal, which was announced by the Government in July.
Dr Noble Francis, economics director at the CPA, said: "Contractors reported a decline in repair and maintenance work in Q2, reflecting a drop-off in measures installed under Government schemes to boost energy efficiency in recent months. The £23 billion R&M sector will undoubtedly be affected by this and the Government's decision to close the Green Deal last month."
The survey also uncovered concerns over how the continued growth would be impacted by skills shortages. Nine quarters of rising construction activity and expectations of higher workloads over the coming year have raised the issue of whether the supply of skilled labour will meet demand. Shortages of skilled on-site trades are already being recorded, and with firms planning to increase headcount in anticipation of workloads picking up, costs are expected to be affected.
Richard Beresford, chief executive of the National Federation of Builders, said: "Despite nine consecutive quarters of reported growth, and healthy order books, future growth is far from assured. The severity of the skills shortage is such that the industry will see unsustainable rising labour costs or an increasing inability to deliver work. Industry's efforts to address skills shortages cannot take effect soon enough."
Suzannah Nichol, chief executive of Build UK (merger of UKCG & NSCC), added: "The outlook remains positive with building contractors enjoying rising output and almost half of specialist contractors looking at expansion in the next quarter. However, the impact of skills shortages continues to be felt, not least through increased labour costs. To overcome the difficulties the industry is facing in recruiting key trades, we need to focus on improving the image of construction and tackling apprenticeship reform."
Difficulties with the supply of labour also mean that wage bills have been reported as the significant driver of construction cost inflation. Among large contractors, 57% of firms, on balance, reported labour costs were higher over Q2, while 100% of heavy side manufacturing firms and 93% of light side firms reported the same.
These findings follow the most recent Construction PMI survey from Markit & CIPS, which found that sub-contractor availability dropped for the 25th consecutive month in July, with charges rising at one of the fastest rates since 1997.
Late payment also remains an issue for specialist contracting firms, with the CPA survey finding that overall, only 6% of specialist contractors reported that they were being paid in under 30 days.