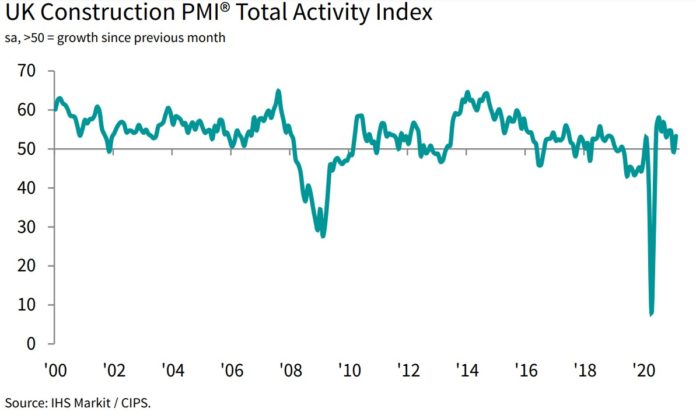 UK construction companies experienced a solid return to growth in February after a setback at the start of 2021, with new orders also regaining momentum as project starts increase in anticipation of improving the country's economic conditions over the course of the year*.
Extended supplier lead times persisted in February as vendors struggled with transport delays and stronger demand conditions. Stretched global supply chains, greater shipping charges and rising commodity prices have all contributed to the sharpest increase in average cost burdens across the construction sector since August 2008.
The headline seasonally adjusted IHS Markit/CIPS UK Construction Total Activity Index posted 53.3 in February, up from 49.2 in January, to signal a solid increase on overall construction output.
The index has registered above the 50.0 no-change mark in eight of the past nine months. Residential work remained the strongest area of growth in February, although the speed of recovery eased slightly since January. There were some reports citing temporary delays on site arising from adverse weather and supply chain issues (especially for timber).
Fortunately, the slowdown in housebuilding has been more than offset by the sharpest rise in commercial work since last September and a slower fall in civil engineering activity.
Survey respondents commented on contract awards for commercial buildings that had been delayed earlier in the pandemic, and some reported a boost from infrastructure work related to major transport projects.
The report showed that new order volumes increased for the ninth consecutive month in February, and the rate of expansion accelerated from the subdued pace seen at the start of the year. Construction companies cited improving demand across a range of sources, including residential development, new opportunities in the commercial segment and public sector infrastructure spending.
Furthermore, greater workloads encouraged additional staff recruitment – the rate of job creation was the fastest since March 2019. Input buying also picked up as construction firms prepared for new project starts.
Improving order books and early signs that the COVID-19 vaccine rollout will release pent up demand also lead to the strongest degree of construction sector optimism for over five years.
Meanwhile, purchasing prices increased rapidly in February with survey respondents citing an imbalance of demand and supply, alongside inflationary pressures
Thoughts from the industry
Brian Berry, chief executive of the Federation of Master Builders (FMB), said: "Construction's slow recovery will stall without clear action to inject greater certainty into the sector. This means tackling rising material prices and supply chains disruption, but also committing to long-term support for builders to build back better, and greener.
"The Stamp Duty holiday extension announced in the Budget will help provide the boost housebuilders clearly need, as demonstrated by the recent PMI data. But the Chancellor did not go far enough."
He concluded: "It's absolutely not too late for the government to bring forward additional policies that unlock the potential of builders to support jobs and green growth. In the short term, a temporary cut in VAT on repair, maintenance and improvement works would generate an economic stimulus worth £51 billion and create almost 345,000 new jobs in construction and the wider economy.
"For the long-term, the government should bring forward a National Retrofit Strategy that provides an ambitious vision for what net-zero looks like, and local builders' contribution to that goal."
Kate Kirby, partner in the Construction team at DWF, added: "There have been supply chain issues and a rise in transport costs to contend with in February, however the future continues to look bright for the sector, which has also recorded a slight rise in new jobs.
"There is a wide degree of optimism surrounding the successful vaccine roll out that is perhaps reflected in this month's data. As the UK emerges from the current lockdown conditions as the year progresses, the sector is set to continue on its upward path."
*The latest PMI data compiled by IHS Markit.