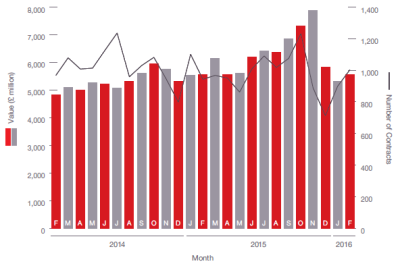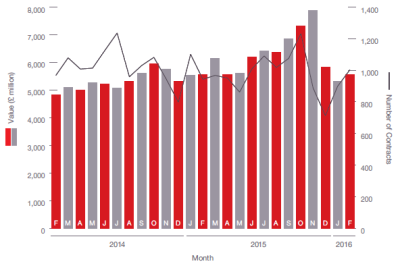 The latest figures from Barbour ABI have reported that the slow start to the year for the construction sector continued throughout February, as the industry struggled to regain the same momentum seen in the third and fourth quarter of 2015.
The Economic & Construction Market Review reported that total construction contract value for February totalled £5.6bn, a slight increase of 4.2% on January's figures but still way down on the £7.9bn recorded in November, resulting in a 29% decrease.
Commenting on the figures, Michael Dall, lead economist at Barbour ABI, said: "After another slow month in February, it's clear that overall construction performance hinges heavily on the residential sector, in particular private housing. Even with residential increasing its total contract value compared to January, it is still well below the figures of the fourth quarter in 2015. However, steady improvement from the Infrastructure and Commercial & Retail sectors could significantly help remove the reliance the industry has on housebuilding contracts.
"Overall consensus is that construction activity remains on track to grow, with a solid pipeline building up over the spring and summer months. The industry is still growing at a steady enough pace, but as previously stated, more growth from the infrastructure and commercial & retail sectors would provide a substantial boost."