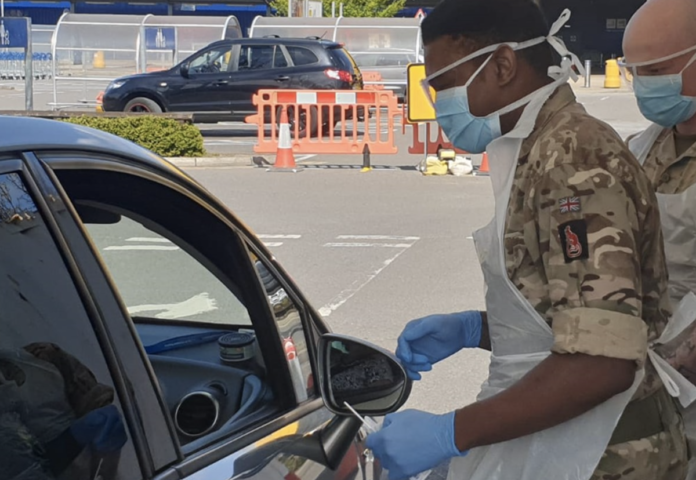 Health Secretary Nick Hancock has announced that construction workers in England showing symptoms of COVID-19 are now eligible for government testing.
He confirmed during the government's daily briefing on Tuesday April 28, that all workers and their families will be offered tests as testing capacity in the UK is ramped up to 73,000 per day.
Eligibility guidance published by the Department of Health and Social Care has been updated to reflect the new policy, offering guidance for those wanting to arrange a test. The guidance states that "anyone who goes into work because they cannot work from home [for example, construction workers] and has symptoms" would be eligible.
Site workers who are showing symptoms can refer themselves for individual test appointments or request home-testing kits from April 29. Construction firms can also apply by email to arrange testing for groups of employees.
The Health Secretary said: "We have already prioritised testing for patients and health and social care workers and other key workers. Today [April 28], I can go further: we are making it easier, faster and simpler for any essential worker in England who needs a test to get a test."

He added: "This also applies for people in essential workers' households who need a test too."

Separate policies apply in Scotland, Wales and Northern Ireland, where healthcare is a devolved responsibility.
Forty-one drive through testing centres are now in operation with a further 48 due to come on stream this week. A further 70 mobile testing stations, largely operated by the army, are also due to be operating by the end of the week.
Nick Hancock had come under pressure from construction union Unite to extend testing to construction workers because so many had kept working through the lockdown.
In a letter to the Health Secretary, Gail Cartmail, assistant general secretary at Unite, said: "Many construction workers continued to work through the lockdown and furloughed workers are being phased back ahead of other sectors.
"Operating advice for building sites based on Construction Leadership Council guidance states that construction workers can work face-to-face within two metres of each other, as long as it is for '15 minutes or less where possible'.
"Unite believes with good practice social distancing can be maintained for most tasks, and where this is not possible, the task should not be undertaken.
"However, to date there is evidence of confusion and if the 15-minute relaxation persists, it will heighten concerns about spreading COVID-19 into communities and workers' homes."
It is hoped testing will help to provide evidence whether safe site working practices are preventing the spread of coronavirus on-site.