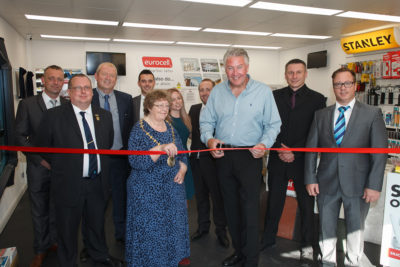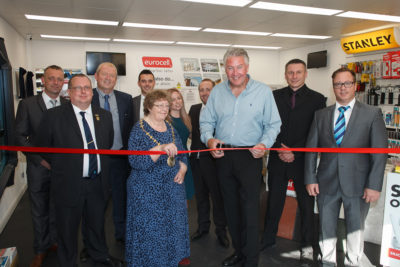 Eurocell has celebrated the opening of its 150th branch in Basingstoke with a ceremony hosted by TV celebrity builder Tommy Walsh on September 14, together with the Mayor of Basingstoke and Deane, Councillor Jane Frankum.
Chris Coxon, head of marketing at Eurocell, commented: "The thinking behind our branch network is that it brings us closer, literally, to our customers – that's why it's so extensive.
"Our customers aren't tied to one location but they want to deal with people they know. Our network means they can order through their local branch and have deliveries from whichever depot is nearest to their job."
Like all Eurocell branches, it is handily located near the main roads – the A340 and the A339 – and next to other suppliers of building materials at the Houndmills Trade Park right by the Houndmills Roundabout.
Warren Haworth, southern divisional director, added: "We'd been looking for suitable premises in the area for some time before we chose this unit, which is close to the town centre's amenities, other merchants and even has a Greggs and a Starbucks across the road."
The new branch will support those nearby, Camberley and Andover, and will be managed by Peter Pubanc, who has many years of experience in the industry.
Richard Embeary, business development manager, will work alongside Peter to provide advice and expertise on bespoke products such as windows, composite doors, and roofing products such as Equinox and Skypod.
The branch will serve its own clients but can arrange delivery through the branch network to wherever they might be working.
In common with all Eurocell branches the new latest branch features a showroom with a large trade counter area and stocks products including Roofline, rainwater systems, window finishing trims, doors and conservatories as well as lines such as underground drainage, hand tools, power tools and protective clothing. All are available to take away, buy online or for direct delivery to site.