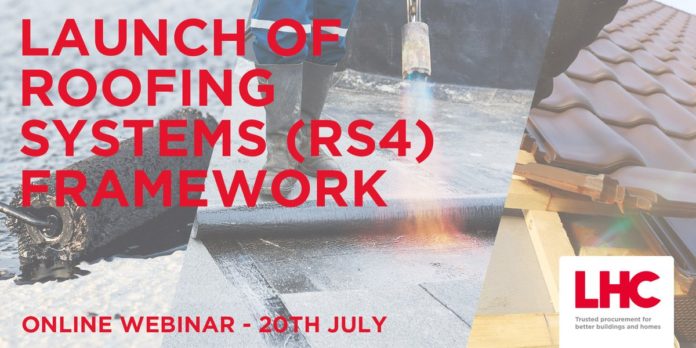 A series of free webinars are being held this month to help public sector clients including local authorities and housing associations in London and the south east access three major frameworks.
The frameworks include new and improved schemes to support the procurement of roofing work, vandal-resistant access controls and fire door installations, and a £250 million modular buildings framework.
Public sector procurement experts at LHC London and South East are hosting these events on 20 and 22 July.
Attendees will have the opportunity to speak to LHC's technical experts on the scope of the frameworks, as well as understanding the range of local companies pre-vetted by LHC and the call-off procedures to get projects started.
Roofing Systems (RS4) – 20 July, 9.30-10.30am – This unified framework has replaced two previously separate agreements for pitched roofing and flat roofing. It provides an enhanced offer by adding more workstream lots than ever before. These consist of traditional flat roofing, liquid system flat roofing, profiled metal roofing, traditional pitched roofing and mixed roofing.
Communal Doors, Entrance Doors and Associated Products (C8) – 20 July, 11.30am -12.30pm – This new framework features additional and improved options with six specific lots covering composite and timber doors, both fire and non-fire rated, communal entrance and exit doors in steel, aluminium and timber, and access control. It is ideal for a range of buildings including multi-occupancy residential, education, local government, police, and fire authority buildings.
Modular Buildings Framework (MB2) – 22 July, 10-11am – This has replaced an extremely successful framework that enabled more than £100 million worth of projects to be delivered across London and the south east. The new MB2 framework is designed to provide a full turnkey solution for all non-housing-related modular public building projects.
Ethan James, acting regional manager at LHC London and south east, said: "These three frameworks being launched for our region address three of the biggest areas of interest and concern for many of our public sector clients.
"RS4 is one of our biggest and most successful frameworks and will now offer even more workstream lots. The new C8 framework for doors and access control is also likely to be very popular in the light of councils' efforts to improve security and fire safety in so many of their properties.
"MB2 is another agreement that is going to be much in demand, covering the design, supply, and installation of both temporary and permanent modular buildings, such as schools, hospitals, emergency services and other community buildings. It's an easy way for many local authorities to access low risk forms of MMC.
"Each one of our frameworks has been designed to ensure it addresses all the current needs of local authorities and their communities, and aims to deliver high quality products, practices, and access to local, pre-approved suppliers."