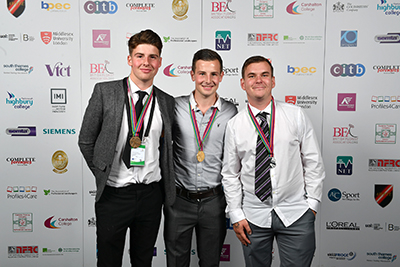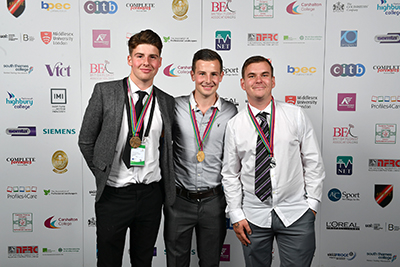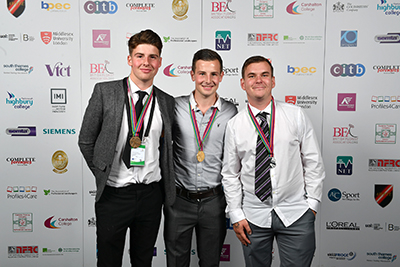 After two and half days of intense competition at the 2016 Skills Show at the NEC Birmingham, the NFRC has announced the winners of SkillBuild, with congratulations going to:
Gold – William Emerton – Leeds College of Building – Emerton Roofing (Western)
Silver – Sam Blount– St Austell College – Graham Barker Roofing Services
Bronze – Andrew Emerton – Leeds College of Building – Emerton Roofing (Western)
Lee Dowding of South Wales and South West Roof Training Group (Dylan Faber Roofing), together with Liam Watson from the National Construction College Erith (West Country Tiling) picked up the Highly Commended awards and all five individuals were recognised at a Gala evening ceremony hosted by World Skills UK.
Commenting on this year's final, Livia Williams, NFRC head of training said: "The standard throughout the regional heats was phenomenal, so we were anticipating a highly-charged final and we weren't proved wrong. Our eight roof slating and tiling apprentices each proved to be worthy finalists and displayed an exceptional level of skill whilst constructing their competition piece.
Livia added: "With over 50 participants in the regional heats and the final itself, it's been another successful year for SkillBuild. We are confident that our entrants have not only helped raised the bar on roofing skills, they have created the role models we need to inspire the next generation of roofers."
The NFRC explained it would like to extend its congratulations to all winners and competitors, from the heats to the final, for taking part in this prestigious event. Acknowledgment was also given for the support provided by their mentors, colleges and employers, and to NFRC Supplier Members – John Brash & Co., Klober and Wienerberger – who each kindly provided materials for the competition.
This year NFRC also ran what it described as a very successful roof tiling showcase area sponsored by Redland Monier. As part of a roofing career and image promotion campaign, the NFRC says this was an excellent opportunity to engage with hundreds of school students and parents who are looking to explore options and opportunities for taking up an apprenticeship.
SkillBuild is a national competition which takes place annually to promote excellence across ten craft occupations, one of which is roofing. The NFRC says it has been proud to support and oversee the event for a number of years.