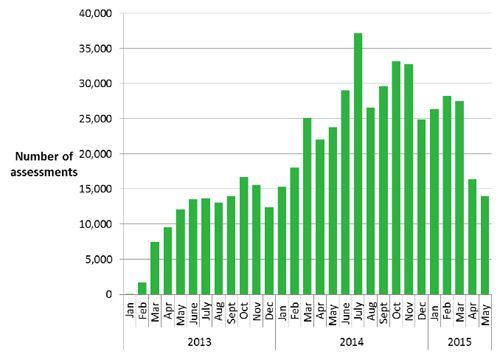 The Green Deal scheme has remained in decline according to new data released by the Department of Energy and Climate Change (DECC), which has shown that both the number of Green Deal Assessments (GDAs) and accredited installers have continued to fall.
Figures released for May 2015 has shown that 13,938 GDAs were carried out throughout the month, which is 15% lower than those in April 2015 and 41% lower than the number recorded in May 2014. This was the lowest number of GDAs lodged in a month since December 2013.
The number of Green Deal accredited installers also decreased in May for a ninth consecutive month since its peak of 2,774 at the end of August 2014 to 2,168. According to DECC, this decrease was due to the decision by some installer organisations to not renew their membership for another year; installer organisations choosing to voluntarily exit; withdrawal by certification body for non-compliance; or due to suspension/ceasing to trade.
The number of assessor organisations also fell in May to 390, employing a total of 4,090 advisors.
Despite these falls across the Green Deal supply chain, the number of Green Deal Plans rose throughout May to reach 14,615. DECC says this growth has been fairly steady throughout recent months, with 8,887 Plans now live (61% of all Green Deal Plans).