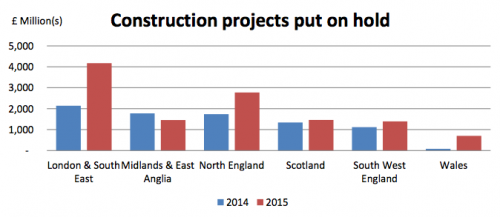 The value of construction projects being put on hold has increased by almost 30% in the last year according to new data released by Barbour ABI.
The new findings show that between September 2014 and August 2015, £12bn of developments were put on hold compared to just £8.6bn in the previous 12 months.
The rapid growth experienced by the construction industry in the last two years as it recovers from the recession period has served to increase the value of projects being delayed. Barbour ABI claims a major reason for this rise is a reaction by clients to increased tender prices by contractors and specialists, which are thought to have risen by 15-20% in the last year alone.
Project delays were most common in London and the South East, which experienced a 49% jump in the number of developments being put on hold in the last 12 months. This was followed by the north of England which experienced an increase of 37%.