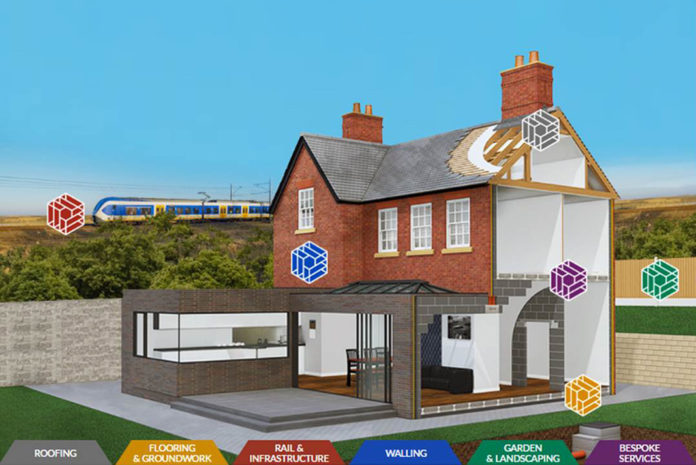 Ibstock plc, the manufacturer of clay bricks and concrete building products, has announced the launch of a new brand identity and which will ensure the breadth of the company's extensive product and service offering is more clearly recognised.
The new logo and corporate strapline – 'At the heart of building' – has been introduced following extensive research with customers and Ibstock employees. The research determined the need to update and refresh the brand to give Ibstock a more coherent and cohesive voice in the building products marketplace and to better align the brand with the full and varied scope of the business.
The new logo features a hexagonal device at its centre, a shape chosen to symbolise strength, flexibility and efficiency. Surrounding the hexagon is a framework that represents Ibstock's core values of innovation, people, community and sustainability. The logo is complemented by a new strapline – 'At the heart of building'.
Joe Hudson, CEO of Ibstock plc, said: "We have made a significant investment over recent years to develop and evolve the Ibstock group of companies, with a clear strategy on delivering customer value and service excellence.
"While some customers recognise the full breadth of what the Group can offer, there is a huge opportunity to improve understanding and increase brand awareness further. We need an identity that is fit for the future and reflects our innovation and energy, but also presents a consistent and co-ordinated Ibstock brand across our complete range of products. We think this new brand identity and strapline gives us that."
Annette Forster, group marketing director for Ibstock plc, commented: "The new branding and corporate strapline underscore the breadth of our product range and Ibstock's place at the heart of the industry. The new logo gives the business one look and feel that brings every aspect of our company and service offering together and encapsulates the passion of our people.
"It also brings more purpose to our brand – highlighting our role in the construction of homes and spaces that inspire people to work and live better."
Over the next few months, there will be a gradual transformation taking place across Ibstock as the new branding and corporate strapline are phased in. This will include new websites, marketing and sales collateral and site signage.