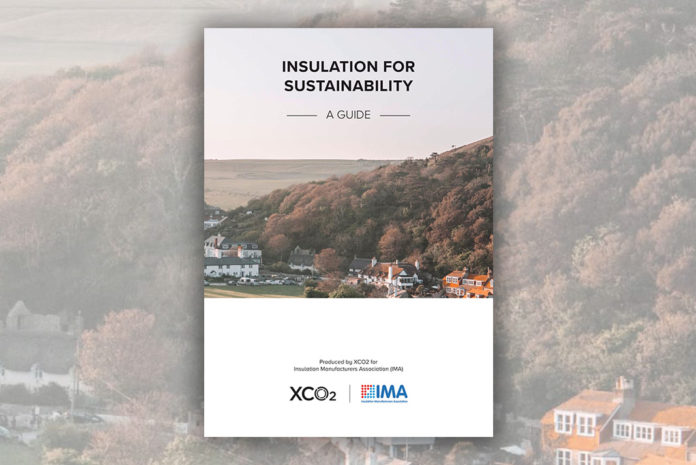 A new publication entitled: 'Insulation for Sustainability,' produced by XCO2, on how to achieve an effective thermal insulation strategy has been released by the Insulation Manufacturers Association (IMA).
The document shows in depth the role the built environment has to play in reducing energy emissions quickly and effectively, principally through the use of energy efficient building elements, known as a 'fabric-first' approach.
It demonstrates how thermal insulation, such as PIR and PUR, are amongst the most sustainable forms of insulation, and one of the best ways to reduce energy demand and cut CO2. This will ensure buildings are built to be resilient in managing climate change.
Suitable for anyone looking to learn about the application of low-carbon strategies through a fabric-first approach including developers, specifiers, installers, clients and students, 'Insulation for Sustainability' highlights the issues associated with energy demand and the way enhanced insulation strategies play a crucial role in the built environment to help the UK meet its net-zero targets.
"This detailed publication considers the significant opportunity the built environment has in comprehensively tackling climate change," said Simon Storer, chief executive of the IMA.
"Insulation is without doubt one of the most cost effective ways of saving energy and the single most important aspect of the specification of energy efficiency measures into homes and buildings."
Ricardo Moreira, managing director of XCO2, added: "XCO2 is a strong advocate of a fabric-first approach to achieve net-zero carbon in buildings. With that in mind, this publication was produced to help design teams navigate insulation choices and their technical implications in this quest to create low-impact, future-proof buildings."
At a time when the construction industry is faced with the challenges and opportunities of operating in the wake of COVID-19, the PIR insulation industry is well poised to help deliver better performing buildings both now and in the future, as well as playing a part in helping the UK achieve its net-zero climate change ambitions.
To download the Insulation for Sustainability document, click here.
​