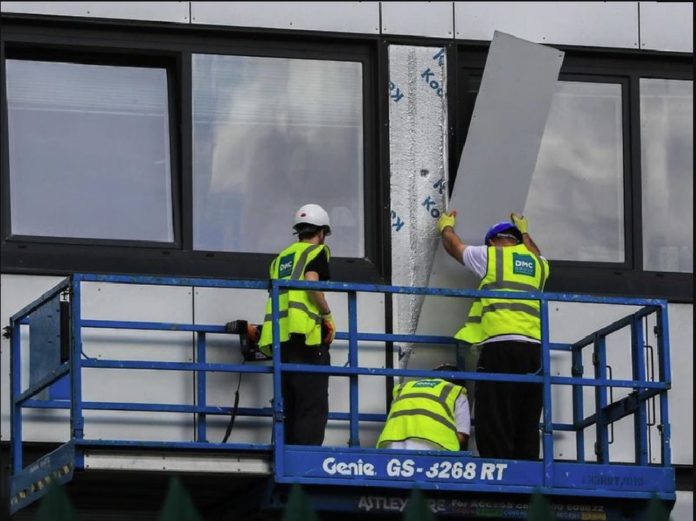 Secretary of State for Housing, Communities and Local Government (Housing Secretary), Robert Jenrick, has unveiled a five-point plan which aims to fully fund the cost of replacing unsafe cladding for all leaseholders in residential buildings 18m or over in England.
With £3.5 billion added to the existing building safety fund, announced on 10 February, 2021, the government plans to ensure aid is targeted at the highest risk buildings in line with longstanding independent expert advice and evidence.
This comes in line with a Home Office analysis of fire and rescue service statistics, which show that buildings between 18m and 30m are four times as likely to suffer a fire with fatalities or serious casualties, than apartment buildings in general.
Furthermore, lower-rise buildings, with a lower risk to safety, will gain new protection from the costs of cladding removal with a new scheme offered to buildings between 11m and 18m. This will pay for cladding removal – where it is needed – through a long-term, low interest, government-backed financing arrangement.
Under the scheme, no leaseholder will ever pay more than £50 a month towards the removal of unsafe cladding.
The announcement comes a few weeks after Liberal Democrat Richard Kilpatrick successfully changed an amendment to shift the financial responsibility of recladding away from residents and leaseholders to the buildings' original developers.
Meanwhile, the government also established a building products regulator (RCI ran comments from Vivalda Group and SR Timber) last month as part of wider reforms to address systemic failings identified by the Hackitt Review.
It is also working with the industry to reduce the need for EWS1 forms, preventing leaseholders from facing delays and allowing hundreds of thousands of homes to be sold, bought, or re-mortgaged once again.
Proposed taxes and levies
The Housing Secretary Robert Jenrick also announced plans to introduce a 'Gateway 2' developer levy. The proposed levy will be targeted and will apply when developers seek permission to develop certain high-rise buildings in England.
Additionally, a new tax will be introduced for the UK residential property development sector, which will raise at least £2 billion over a decade to help pay for cladding remediation costs.
The tax will ensure that the largest property developers make a fair contribution to the remediation programme, reflecting the benefit they will derive from restoring confidence to the UK housing market. The government will consult on the policy design in due course.
Preparing for the future
Moreover, the government aims to protect future generations from similar mistakes this year by tightening building safety regulations and reviewing the construction products regime to prevent malpractice arising again.
The measures laid out will mean people living in homes, which they have been prevented from selling, or re-mortgaging, through no fault of their own, will now be able to move on with their lives.
Industry reactions to cladding radiation work
James Talman, chief executive officer of the National Federation of Roofing Contractors (NFRC), said: "It cannot be right to expect leaseholders to pick-up the bill for the cost of cladding remediation. Therefore, it is welcome that the government has announced the largest ever investment in building safety, to ensure the cost of remediation is covered.
"We will continue to support the government to make sure that all unsafe cladding is swiftly and safely replaced, and that this is done by competent installers."
Meanwhile, Peter Johnson, chairman of Vivalda Group, also welcomed the move but recommended urgent investment into training for contractors tasked with making repairs.
He said: "While I broadly welcome this as a step in the right direction, this figure still falls a long way short of the £15 billion funding that the select committee recommended to fix unsafe cladding on all high-rise buildings. Nevertheless, there remain challenges to implement such a plan.
"Right now, the cladding sector is pretty much working at full capacity – in terms of the skilled workforce available to fix cladding safely onto buildings. Installing cladding is a skilled job and without a significant increase in trained, qualified people, I can't see how the industry can deliver such a huge project at scale."
Peter continued: "I understand various training schemes have been discussed and may well be in process, using tried and tested organisations such as the CITB and the NFRC. However, it appears they have been put on hold due to lockdown. I urge the government to re-engage these training organisations and construction bodies as soon a safely possible to get these training schemes up and running with great urgency.
"Clearly, it is only right and proper for the government to be putting adequate funds in place to fix this national disgrace, but it should also be focusing on the barriers to delivery, such as skills shortages. Lack of available skilled labour could be the Achilles heel of the remediation work."