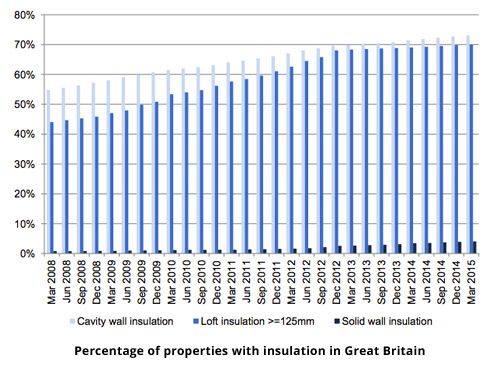 Less than a quarter of a million more homes received some form of insulation in the first three months of 2015, according to new figures released by the Department of Energy and Climate Change (DECC).
Between the end of December 2014 and the end of March 2015, 100,000 more homes received cavity wall insulation (CWI), taking the total number of UK homes with CWI up to 14.2m (roughly 73% of homes with cavity walls). The same number of new homes received loft insulation of at least 125mm, meaning that 16.8m of the UK's 23.9m homes with a loft now have adequate insulation.
This means there are currently just 4.7m cavity homes in need of CWI, which DECC says are mostly hard to treat properties. The same is reportedly true of the remaining properties with lofts, of which there are now only 400,000.
The amount of lofts in particular being insulated is likely due in part to the measures being commonly recommended following a Green Deal Assessment. The latest figures released by DECC show that the most common single measure to be recommended following a Green Deal Assessment was loft insulation (15% of the 1,621,622 measures and recommended in 46% of all assessments).
However, the same increase has not been measured in solid wall homes, with the number of insulated properties increasing by just 30,000 in the first three months of 2015. According to DECC's figures, this means only 324,000 of the UK's 8m solid wall homes have solid wall insulation (SWI), equaling around 4% of solid wall housing stock.