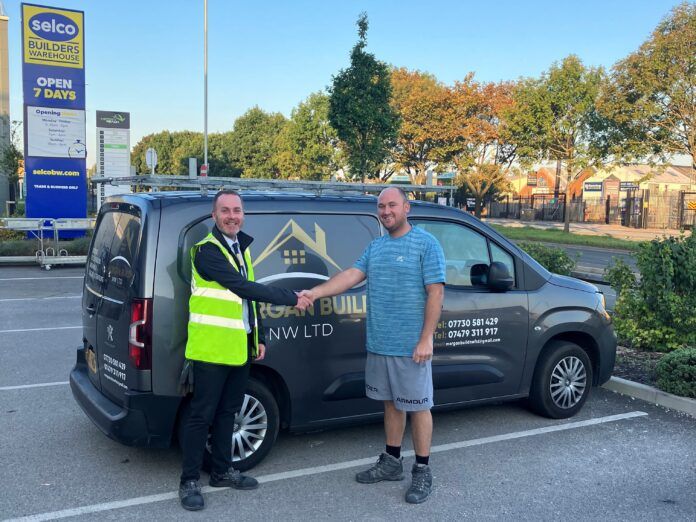 A Liverpool joiner who has raised £20,000 for charity in the last 12 months has been declared a winner of the Selco Extra Mile Awards, which was launched by Selco Builders Warehouse to recognise kind-hearted tradespeople who have given back to their local community or charities.
Chris has held charity football matches and social events to raise funds for St Vincent's School in West Derby, which specialises in supporting children with visual impairments, and Bootle Bucks Inclusion, which offers football opportunities for children and adults who face challenges.
As part of his award, he will receive £1,000 credit to spend on materials and products from Selco.
Chris said: "My son has a visual impairment which meant he started at St Vincent's School and they do fantastic work so I wanted to give something back.
"I then started seeing the work Bootle Bucks Inclusion do and wanted to do something to support them, alongside Dave and Anthony who own Morgan Build and my mum Michelle. To help provide the funding for so many youngsters to go to Ireland and take part in a tour with football at its heart was a very proud moment for us all.
"My mum has a history of helping people who are vulnerable and need support so she has been an inspiration and hopefully there are many more fundraising events to come.
"I knew I'd been nominated for the Selco Extra Mile Awards but didn't think for a second I would win it so it's a real thrill."
Carine Jessamine, marketing director of Selco, added: "We received dozens of very strong entries highlighting the outstanding work tradespeople do over and above their day job and it was an extremely difficult task to select winners.
"Chris' commitment to helping two local charities is inspiring and he is making a real difference to children who face challenging times."