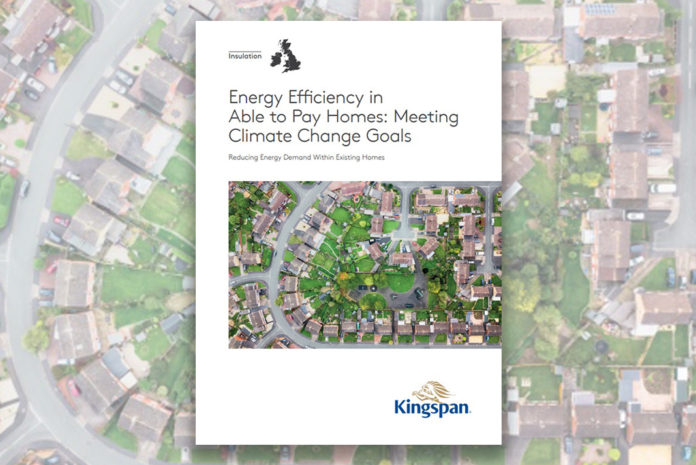 Kingspan Insulation has published a new report that offers clear policy recommendations to raise the energy efficiency of UK homes as part of the country's net-zero carbon commitments.
The 'Energy Efficiency in Able to Pay Homes: Meeting Climate Change Goals' report follows the Chancellor's summer economic update earlier this month, which confirmed funding to help households invest in the energy efficiency of their homes as part of the Green Homes Grant.
Kingspan Insulation has published a series of recommendations to further drive investment and provide the market conditions to drive sustainable demand for energy efficiency improvements.
The paper, which has already been shared with policy makers, brings together work that has been undertaken by Kingspan Insulation over recent years to inform the policy debate.
Key recommendations in the report include:
Building passports
Highlighting energy costs during property transactions
Green mortgages
Council tax incentives (variable and rebates)
Home upgrade grants
Low interest loans and saving schemes
Mandating action by setting minimum EPC standards at point-of-sale.
Whilst Kingspan Insulation welcomes the Green Homes Grant scheme, the report emphasises the need for a holistic package of measures, such as incentives, information provision and regulation to bring the worst performing properties up to standard.
The policies outlined in the report target the 'able to pay' market, which represents the largest proportion of housing and the worst energy performance ratings.
Kingspan Insulation has also recommended financial levers to help overcome the upfront cost barrier to uptake and encourage action through differential council tax incentives. These financial levers include rebates for the installation of energy efficiency measures or variable rates based on carbon emissions.
Other options include grants such as the Home Upgrade Grants confirmed by the Chancellor, and Green Mortgages, in line with the pilot scheme announced recently by the Department for Business, Energy and Industrial Strategy (BEIS).
In addition, the paper recommends the introduction of building passports to improve awareness and understanding of property performance and provide households with renovation roadmaps. These measures are supported by the Committee on Climate Change in their latest progress report to Parliament.
As plans are introduced to align the economic recovery with the low-carbon transition, this paper seeks to support the government in its decision-making. Supporting energy efficiency upgrades will enhance the 'Green Recovery' creating jobs across the country, lowering energy costs, and importantly contributing to the UK's Net Zero target.
Adrian Pargeter, director of technical, marketing and regulatory affairs at Kingspan Insulation UK, said: "The need to reduce emissions and lower energy demand from our buildings has never been clearer. It is essential that the government seizes the opportunity of a Green Recovery by introducing an ambitious policy framework that will not only help households in the short-term, but also provides a sustainable market and delivers long-term change, so that the UK meets its carbon targets and we realise the economic benefits associated with supporting energy efficiency improvements.
"We hope that this paper contributes to the debate and we look forward to the upcoming Buildings and Heat Roadmap and the Spending Review later this year, which we are optimistic will take on board some of these policy recommendations."
Simon Storer, chief executive of the Insulation Manufacturers Association, added: "We welcome and support the paper published by our member Kingspan Insulation, which clearly sets out a suite of policies to encourage retrofit in the able to pay sector. If we are to achieve net zero carbon by 2050, it is essential to motivate this sector towards the installation of energy efficiency measures in a fabric first approach. This includes installing high quality insulation which will provide long-term and cost-effective savings for consumers, with opportunities in a green jobs market, whilst ensuring that homes are fit for the future."
Neil Marshall, an energy efficiency consultant, said: "This report from Kingspan Insulation is a useful piece of work that recommends a significant number of interesting proposals that are targeted at householders. With the government having committed £2 billion in the next year for grants up to two-thirds of the cost of insulation for householders through the Green Homes Grant scheme, it is important to establish whether or not this will be sustained long-term, and if so, how best to blend the different ideas to achieve the most cost effective outcome for government and householders.
"In addition, it is critical that government gets the balance right and does not lose its focus on eradicating fuel poverty. There are still millions of households suffering the blight of fuel poverty and they cannot afford to contribute towards the cost of insulation or obtain loans to pay for it. Therefore, policies and funding must be ring fenced for this group of people."  
The Kingspan Insulation policy paper can be accessed in full here: https://www.kingspan.com/gb/en-gb/products/insulation/news/kingspan-recommends-further-incentives-needed-for.