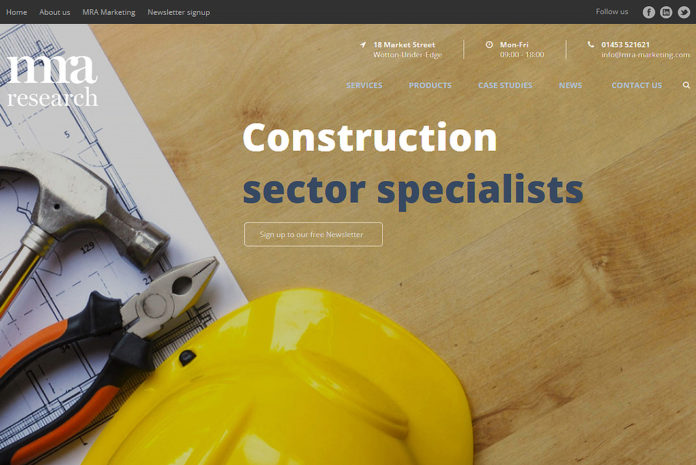 MRA Marketing, the full-service marketing agency specialising in the construction and home improvement markets, has launched a new website dedicated to its specialist research division, MRA Research.
Although the company is best known within the construction industry for helping companies grow and its fact-based marketing and PR work, many big brands use MRA Marketing for market and customer insight.
MRA Research was set up in 1991 by chief executive officer Mike Rigby, who has a solid background in B2B research from various strategic marketing and research-based roles within the industry, including running Dulux Paint's B2B research unit. The company is run by general manager Neil Parsonson, and has been providing insight for many big names since the 1990s.
MRA set up and has been managing the monthly Builders Merchant Building Index (BMBI) report since 2015 in partnership with GfK and the Builders Merchants Federation.
Services offered by MRA Research include customer satisfaction surveys, brand mapping and positioning, benchmarking and competitive advantage surveys, new product development and concept testing, advertising and messaging research, product usage surveys, decision maker research, market tracking, market and competitor reviews. MRA Research also provides penetrating qualitative insight via focus groups and in-depth interviews.
"We have launched a dedicated website to showcase our experience in research and strong focus on fact-based marketing," said Mike. "We undertake a lot of research projects. Many customers are ambitious, but without fresh insights that identify changing opportunity gaps and competitive advantage, their strategies lack bite. We use our research and insight, and work with companies to sharpen and create new strategies and business models to help companies grow. Research is the foundation of our integrated strategic marketing and PR programmes, but we have not promoted our research capabilities widely until now."
You can find out more by visiting www.mra-research.co.uk.