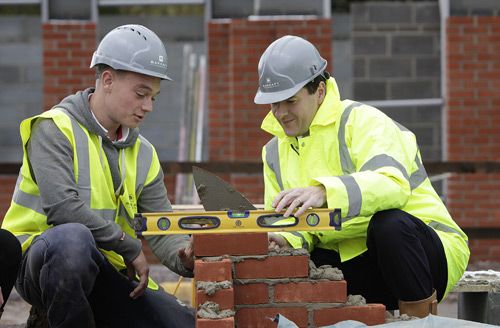 A series of planning reforms to the UK house-building sector have been announced in an effort by Chancellor George Osborne to boost productivity and 'get Britain building'.
The new measures are included in the Fixing the foundations: Creating a more prosperous nation publication, which makes significant changes to the UK's current planning laws. Among these are plans for a new zonal system that will effectively give automatic planning permission on suitable brownfield sites, which is intended to spark "an urban planning revolution on brownfield sites".
Local authorities will also be pressured by Government to ensure local plans are in place to make homes available for local people, particularly on brownfield sites. The secretary of state for Communities and Local Government will be able to intervene for those local authorities that do not produce them, to arrange for local plans to be written, in consultation with local people.
Plans are also being implemented to increase the density of housing in 'key commuter hubs'; release commercial land for housing; re-focus Department for Communities and Local Government (DCLG) budgets on supporting low cost home ownership for first time buyers; in addition to the construction of 200,000 Starter Homes by 2020; and remove the need for planning permission in London for upwards extensions to the height of an adjoining building.
Chancellor George Osborne said: "Britain has been incapable of building enough homes. The reforms we made to the planning system in the last Parliament have started to improve the situation: planning permissions and housing starts are at a seven-year high.
"But we need to go further and I am not prepared to stand by when people who want to get on the housing ladder can't do so."
The new productivity plan was launched by Sajid Javid, secretary of state for Business, Innovation and Skills, on July 10 at a speech in Birmingham, who said: "The UK has long been incapable of building enough homes to keep up with growing demand. This doesn't just frustrate the ambitions of hardworking people who want to own their own home – it also harms productivity and restricts flexibility in the labour market."
Greg Clark, secretary of state for DCLG, said: "The top-down targets of the past planning system did nothing to deliver the homes our country needs. In contrast, putting local people in control has led to record numbers of homes being granted permission and support for house-building to grow.
"Today's [July 10] proposals ensure we go further and faster, removing the barriers so we can keep the country building and support hard-working people to achieve their dream of home ownership."
Issues around planning have long been considered an obstacle to faster rates of house-building, and so these new plans have been met with approval from several interested parties.
Jeremy Blackburn, head of policy at the Royal Institute of Chartered Surveyors, said: "Measures to improve productivity through planning and infrastructure are a forward step in guaranteeing property led growth. Enforcing local plans and measures to speed up delivery on brownfield sites are things we have long called for, but these need to be part of an overall coordinated strategy."
The measures have also been welcomed for their potential to increase the supply of new homes in place of policies such as Help to Buy and Right to Buy, which only boost demand.
Mr. Blackburn added: "Stronger compulsory purchasing powers and a new 'zonal system' for faster delivery of housing on brownfield land is a positive step towards addressing the gap between demand and supply. Some sites have been locked up for too long and these measures, coupled with a brownfield register and fund, will get them moving.
Brian Berry, FMB Chief Executive, said: "For some time, the whole construction industry has being challenging the Government to solve the housing crisis at its root cause: supply. Ministers' renewed focus on supply will in turn improve affordability, which is another top priority for the current Government."
Mr. Berry also supported the ability of the new measures to increase access to small brownfield sites for small house-building firms, claiming the Government "deserves great credit for these bold steps."
However, there has been criticism that planning reform is not where the Government's efforts should be focused. According to Cllr Mike Jones of the Local Government Association, 260,000 dwellings received planning permission in 2014/15, but construction began on around 140,000.
Speaking to the BBC on July 12, Mr. Jones said: "The planning system is working, what we do need is a focus on getting more people trained and skilled-up to be able to deliver the homes.
"What we need is the money to go to councils to work with colleges and let's get young people into these jobs. In 2008 when the housing industry crashed and broke, a lot of people left the industry and they're having an awful time getting those people back in to the industry.
"I don't see that some of these measures will make any difference to the housing delivery."
He also drew attention to the fact that most house-builders avoid building on brownfield sites as it is far more expensive to make the land viable for residential construction than greenfield sites.