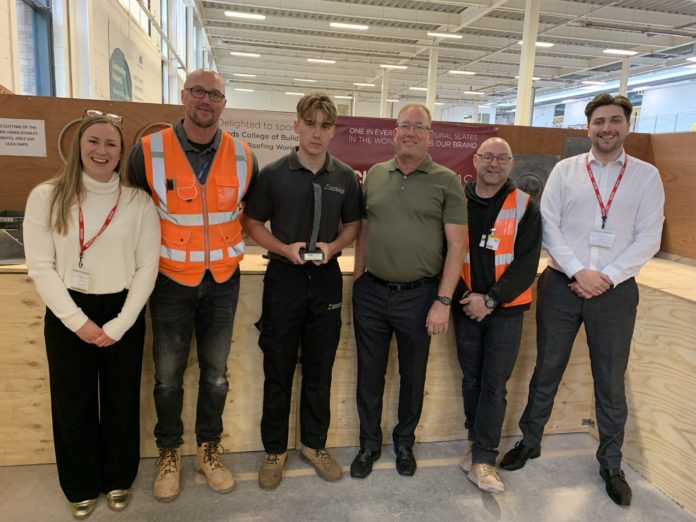 Harry Aldridge, an apprentice at Leeds College of Building has received the 2021 'Roof Slating Apprentice of the Year' award from CUPA PIZARRAS, for his exceptional commitment, determination, and dedication to training.
Judged by Leeds College of Building representatives and CUPA PIZARRAS, Harry said: "I'm really proud to win this award. I learned lots of new skills and was pushed hard. Not only did I improve my trade skills, but I also increased my confidence and communication skills. I have been able to use this learning back on-site where company mentors have supported me. My advice to others would be to give it a go and earn while you learn."
Commenting on Harry's achievement, David Mallory, a lecturer at Leeds College of Building Roofing, said: "Harry was selected as this year's CUPA PIZARRAS winner for pushing himself hard and becoming so skilled in his trade. He is a true success story as he faced many challenges, however, despite this, Harry has tackled them all head-on and actually taught the staff a lot too as we adapted to his needs. He is a real inspiration to other students and an example of what can be achieved when you go above and beyond."

Harry currently works for the family business Aldridge & Sons Roofing in Sunbury-on-Thames, Surrey. Since the age of 16, Harry has travelled for the specialist training at Leeds College of Building on block release with support from the Construction Industry Training Board (CITB).
He has since completed an NVQ Level 2 and 3 Apprenticeship in Roof Slating & Tiling, and gained functional skills qualifications in maths and English. After three years of training, Harry is being promoted to supervisor and will lead a team of his own in his business.
Hannah Wall, UK marketing manager at CUPA PIZARRAS, said: "Both CUPA PIZARRAS and Burton Roofing Merchants acknowledge the need for more skilled labour within the construction industry and why partnerships such as these are so crucial. We wholeheartedly support Leeds College of Building in its pursuit of excellence and development of industry skills through apprentices."
CUPA PIZARRAS is a longstanding supporter of Leeds College of Building and donates much-needed roofing supplies (including its natural slate range) through Burton Roofing Merchants.