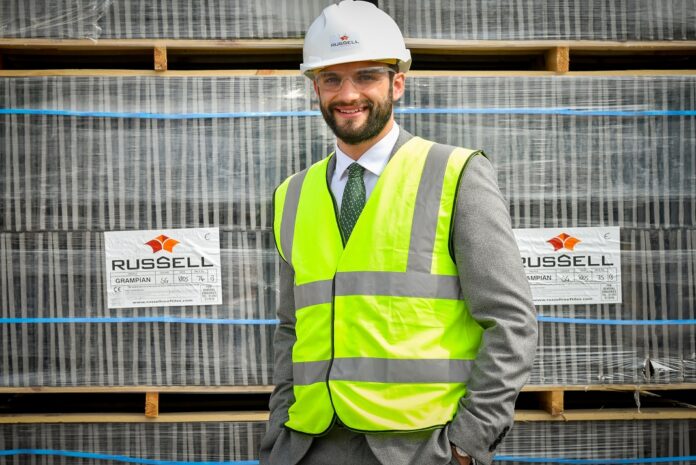 With the recent introduction of the plastic packaging tax Russell Roof Tiles is reviewing the latest legislation and the implications it will have on the industry.
Russell Roof Tiles has made a significant effort over the last five years to reduce its packaging to improve its carbon footprint and help remove single-use plastic from its operations where possible.
Introduced on 1 April 2022, the new legislation applies to plastic packaging produced in or imported into the UK, which does not contain at least 30% recycled plastic. Those that do not meet the standards set out by the Government are subject to a £200 per-tonne tax bill.
Although the tax applies to all plastic producers, it's a challenge to the building and construction sector which generates 50,000 tonnes of plastic packaging waste every year, with the majority of building materials being transported using pallets that are either shrink-wrapped, bound with plastic straps or cased in protective polystyrene. The problem at hand is that these materials are discarded as soon as the products are unpacked and often end up in landfills or incineration.
To combat the single-use plastic issue, manufacturers have collaborated with suppliers to re-design packaging and use recycled materials to wrap its products to ensure there is minimal damage to tiles being delivered to sites across the UK, which has led to a 9% reduction of packaging per tonne of concrete product.
The Government is also continuing to implement further restrictions on plastic packaging, with the Extended Producer Responsibility legislation that is now expected to be rolled out in 2024, a year later than originally planned.
Daniel Hancox, business support manager at Russell Roof Tiles, said: "We have to see the positives in these pushbacks. We have used this as an opportunity to reduce the use of plastic packaging before the increase in price and find alternatives with higher recycled content that are less harmful to the environment, but still do the job. There's still a lot of work to be done for both manufacturers and the construction industry, but we're on the right path."
>>Read more about Russel Roof Tiles here.