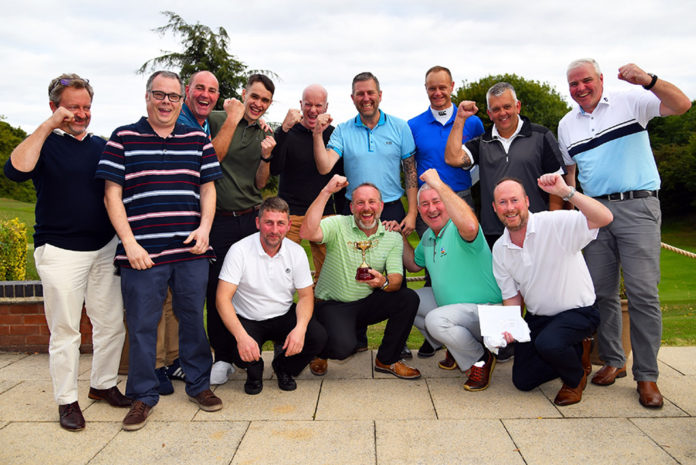 Roof tile manufacturer, Russell Roof Tiles, will once again be hosting its annual charity golf day, to raise worthwhile funds for local community causes.
Held for the first time at Horsley Lodge Golf Club in Horsley, Derbyshire on Thursday, June 27, the golf day will see more than 80 people from across 15 local businesses take to the green for charity. This includes Burton Albion Football Club, Derbyshire Cricket Club, housebuilder Strata Homes and roofing contractor, Avonside Group.
The golf day, organised by area sales manager, Ross Hayward, has been running since 2016 and is a hugely successful part of Russell Roof Tiles fundraising. With two sites in Burton and a third site in Lochmaben, Scotland, the manufacturer has raised a whopping £12,500 so far through the annual event.
Proceeds raised by the golf tournament goes towards local community causes and various charities which Russell Roof Tiles supports. Businesses can contribute to the final total through paying to play in the match.
Ross said: "The annual golf day is one of the highlights of our year. It's fantastic fun, but at the end of the day, it's also helping us contribute to our charity goals. Over the past few years, we've been very much involved with local community charities, such as Dumfries and Galloway Blood Bikes, Staffordshire. Shropshire. Cheshire Blood Bikes and Mona C Allotments.
"We can't wait to see how much we raise for local organisations that are very important to the company and employees, and I'm excited for what I'm sure will be a fiercely competitive competition."
Not only will tournament proceeds go towards charity, but Russell Roof Tiles will also be match funding the money raised, as part of its Pitching for Pennies scheme, which was announced in 2019.
Fundraising boosted by the scheme so far includes Russell Roof Tiles' operations director, Bruce Laidlaw's 1.5k swimathon and HR manager, Nikki Rowbotham's sugar-free month. Raising an impressive £500 between them, with the aid of Pitching for Pennies, they donated £1,000 in total to Cancer Research UK.
Andrew Hayward, managing director at Russell Roof Tiles, said: "As a company, we take our social and ethical responsibilities very seriously. At the same time, we love hosting social events, so a day on the green, playing golf with local like-minded businesses, is a fantastic way to raise money for community causes."
Russell Roof Tiles has always been dedicated to supporting local causes, raising an impressive £78,000 for a variety of organisations since 2015. Staff have been involved in everything from a weight loss charity challenge to a "Strictly Come Dancing" inspired ballroom fundraiser.