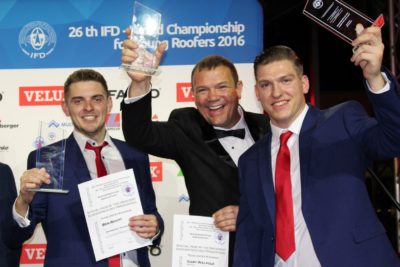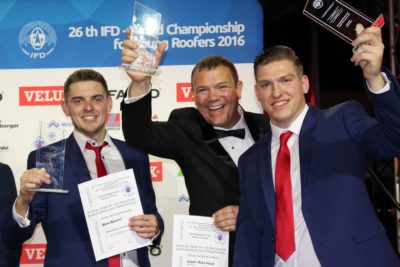 Four of the UK's most talented young roofers have had their skills put to the test at the World Championship for Young Roofers final last month in Warsaw, Poland.
Organised by the International Federation of Roofing Contractors (IFD), the competition was staged over three days from October 26-28 and attracted competitors from around the world.
The UK duo competing in the waterproofing roofing category beat off contenders from all corners of the globe to win one of the prestigious President's Prizes for Innovation that are awarded for each category covering pitched, waterproofing and metal roofing.
This was a voluntary task that allowed competitors to use their own creativity and initiative utilising a range of roofing products. Congratulations go to Jordan Lane of Lane Roofing (Birmingham) and Ben Revitt of Briggs Amasco (Birmingham).
The NFRC says Team GB for pitched roofing, represented by Connor Martin of Fineline Roofing (Devon) and Donal Harkin of D Harkin & Co (Northern Ireland), also put on an impressive display of roofing skills and were extremely unlucky to miss out on medals on this occasion.
Commenting on this year's IFD final, Livia Williams, head of training at the NFRC, said: "We couldn't be more proud of Team GB's performance. Our young roofers displayed an exceptional level of skill, workmanship and pride in their work over the three days, and at such a high standard, it was no easy task for the judges to decide.
"The NFRC is also grateful to the teams' employers, mentors and sponsors without whom the extensive training that is required when competing at this level would not have been possible."
The bi-annual IFD flies the flag for the roofing profession worldwide. Aimed at creating a common international message to promote the standards of skilled young roofers, the competition serves to raise the profile of on-the-job training and increasing the respect given to the roofing trade. All participants are judged on the precision of execution of their work, the exploitation of material, technical skill and realisation of the requested work.
Sponsors of this year's World Championship for Young Roofers were: Briggs Amasco, Cupa Pizarras S.A, D Harkin & Co (Roofing), the Institute of Roofing, Liquid Roofing and Waterproofing Association, Monier Redland, Single Ply Roofing Association and Sika.